Today, Sen Enyinnaya Abaribe of APGA has nothing to campaign with except Mazi Nnamdi Kanu and IPOB. IPOB has all it takes to defend itself and iron out its issues with the federal government. It does not need an Abaribe to presecute its war. Sen Enyinnaya Abaribe who, after sixteen years, could only boast of two approved irrelevant bills to his name and nothing more. It is obvious that he has absolutely nothing more to contribute, and as such, should be voted out unceremoniously.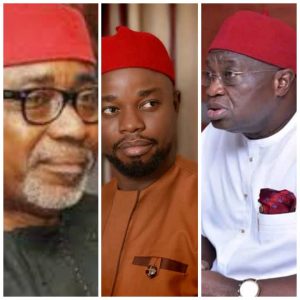 Okezie Victor Ikpeazu, on his part, after recording the worst leadership in Abia State since the return of democracy in Nigeria, now hides under the guise of Obedients to get support. This was clearly seen during the one-million-man march of 1st October organised by the Obedient Movement on the platform of the Labour Party where he (Okezie Ikpeazu) tried to hijack and claim adoption. Unfortunately, this attempt fell like a pack of cards.
Voting leaders in our present society demands thorough scrutiny of the candidates' past antecedents, present outlook and proposed plan for the future.
Going by this yardstick, it is obvious that both Sen Enyinnaya Abaribe of APGA and Okezie Victor Ikpeazu of the PDP have fallen short of credibility and acceptability. Both candidates should proceed on their unmeritorious retirement to their various stately homes built with our collective patrimony and allow the good people of Abia South Senatorial Zone to progress under the watch of our indefatigable incoming senator, Engr Chinedu Onyeizu, who represents the new hope and aspirations of our dear constituency.
Like the saying goes, 'first fool no be fool, second fool na proper foolishnessis'. Let us not play sentimental politics and jeopardize the future and destiny of our children in the hands of leaders that have lost touch with reality.
Vote Labour Party.
Vote Engr Chinedu Onyeizu for Senator for Abia South Senatorial Zone maka odinma anyi nile.