Governor Nasir El-Rufai of Kaduna State has said that he can arrest the presidential candidate of the Labour Party, Peter Obi, if he so desires.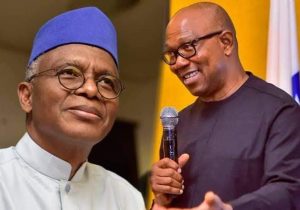 Speaking at an interactive forum on Monday, Mr El-Rufai said he had within his disposition a plethora of state security agencies to intimidate political opponents.
"In 2013, I went to Anambra State as an official of the APC to witness the by-election for governorship; your next guest, Peter Obi, was governor. He got me arrested, and he detained me for 48 hours in my hotel room.
"Now, I am the governor of Kaduna State and he is coming to Kaduna. In addition to the police and the SSS, I have one mechanised division of the Nigeria Army, but we are northerners; we are civilised. We don't do things like that," Mr El-Rufai said.
Although Mr El-Rufai now accuses Mr Obi of orchestrating his illegal detention, he had previously confirmed in a televised interview that the order to restrict his movement was issued from Abuja under the Peoples Democratic Party (PDP)-led presidency to which Mr Obi had no affiliation at the time.