On behalf of my wife and family, I wish to join all patriotic Abians to celebrate our dear Governor Dr. Okezie Victor Chibuikem Ikpeazu, on the occasion of his 58th birthday anniversary.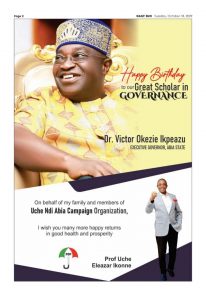 My dear Governor your landmark achievements in security, peace, economy, and infrastructure are a testament to your visionary and strategic leadership style.
As a governor, you have shown immense commitment to improving the welfare of the people through service delivery and good governance which had impacted the growth and development of the state.
The intellectual capacity with which you have been able to demystify the art of governance with the inherent humility in academism had simplified the sophistry of politics.
The intrinsic values you have added to national and state polity are eloquent indexes of your legacies even as we look towards the future with justified optimism, and guaranteed assuredness
I join the Uche Ndi Abia family, friends, political associates, and the good people of Abia state to wish you well and ask God to grant you good health, greater wisdom, and success in your journey towards a greater future of service to the nation.
Sign
Prof Eleazar Uche Ikonne
Abia State PDP Governorship Candidate