Rivers State Governor Nyesom Wike on Tuesday declared total support for the re-election bid of Lagos State Governor Babajide Sanwo-Olu in the 2023 general elections.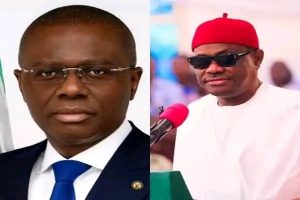 Wike who has been running battle with his political party, People's Democratic Party (PDP) over the emergency of its presidential candidate, Alhaji Atiku Abubakar, said of Sanwo-Olu of All Progressive Congress (APC) is the best man for the job of governor in the state, due to his performance.
The Rivers State governor made the declaration at the ongoing 22nd National Women's Conference (NWC) holding in Lagos.