Former Vice President of Nigeria, Atiku Abubakar is reportedly considering dropping former Anambra State Governor, Peter Obi in favour of another person as his running mate for the 2023 presidency.
According to reports, Atiku wants to choose Rivers State Governor, Nyesom Wike as his running mate should he clinch the Peoples Democratic Party (PDP) ticket for the 2023 presidency.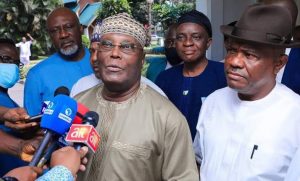 Atiku and Obi had contested together in 2019 as the presidential and vice-presidential candidates of the PDP, Naija News reports.
But according to sources quoted by Business Day, apart from his charisma and intellectual capacity which made him popular with the people, Obi didn't make too much financial contributions to the ticket.
The source claimed it is the belief in the Atiku camp that Wike can also attract voters from the southeast and bring meaningful financial contributions to political campaigns as well.
"Prior to the 2019 election, Governor Peter Obi didn't have a strong political structure outside the South East. People just loved him because of his vast knowledge of the economy, winning an election goes beyond all that.
"For instance, since he left office and joined PDP he has not been able to have his nominees win the governorship election in the state. Although he is brilliant and can speak good grammar, interprets the economy very well, winning an election is much more than that. How much did he bring to the table?
"To successfully run an election in this country you need money, connection, strong and vast political structure, etc, and these you find in abundance in Nyesom Wike. He is a good material any day and that's not the kind of man you leave behind, especially if you want to win election in Nigeria," the source claimed.
[Naijanews]