COMMUNIQUE ISSUED BY THE SOUTHEAST GOVERNORS' FORUM AFTER THE SECURITY SUMMIT ORGANISED BY THE INSPECTOR GENERAL OF POLICE AT THE BASE EVENT CENTRE, ENUGU, ENUGU STATE, NIGERIA ON WEDNESDAY, THE 12 FEBRUARY, 2020.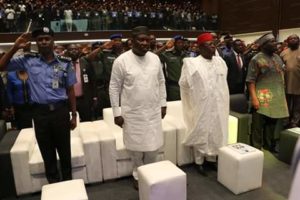 IN ATTENDANCE: Governors of the Southeast geopolitical zone, Political Stakeholders, Traditional Rulers, Religious, Community Leaders, Members of the Academia and Representatives of the Youths and Students.
Background: Arising from a high-profile meeting of the Southeast Governors, the governors x-rayed the myraids of security challenges greeting the zone with a view of propounding lasting approaches to the security malaise.
The governors considered the urgency of Community Policing – a people oriented approach, as a panacea to the hydra headed problems bedeviling the Southeast geopolitical zone.
1. Taken into cognisance the existing security initiative instituted by the governors in various states of the Southeast geopolitical zone at the various levels such as Vigilante Groups, the Neighbourhood Watch, the Forest Guards, Farmers -Herders Committees, the Homeland Gatekeepers which are in conformity with the community policing strategy, the state governors have accepted and adopted community policing as an effective tools in bringing policing to the grassroots.
2. Community policing committees made up of traditional rulers, community leaders, town union leaders and religious leaders within their localities will be charged with the responsibility of selecting and recruiting of community policing officers that will work within the communities
3. The governors of the geopolitical zone to reinforce and provide improved capacity for the police and other security agencies in their state in support of community policing programs,
4. Each state within the geopolitical zone to individually and periodically undertake operation against crimes and criminality in synergy with the police and other security agencies in the state.
5. The states to individually develop modalities for sharing intelligence with other states within the zone on the activities and movements of criminals within the zone
6. Each state to increase its investments in social intervention programs aimed at providing legitimate and alternative means of livelihood for our teeming youths,
7. The state governors within the geopolitical zone to have joint security meetings on quarterly basis to access the security situation within the zone,
8. The Ministry of Information within the zone in conjunction with the traditional rulers, community leaders and religious leaders to liaise with the Police Public Relations Officers in the five state commands within the Southeast zone in creating awareness and sensitisation programs of active engagements in community policing within their localities,
9. The Inspector General of Police to expedite action on the smooth take off of the additional Police Mobile Squadron recently established in the Southeast geopolitical zone to complement existing security architecture and boost safety within the zone.
10. In the furtherance of these objectives, the relevant state governors will support the Nigerian Police especially of the provision of lands, office accommodation, vehicles and other essential logistics.
Issued and signed on behalf of the Southeast Governors by His Excellency, Governor David Nweze Umahi.
12 February, 2020.