The Ukwa la Ngwa Elders Council Wednesday urged Abia State governor,Dr Okezie Ikpeazu to quickly restore order and normalcy in Aba as the continued observance of now cancelled weekly 'Sit at home' is impacting negatively on the economy of the commercial metropolis.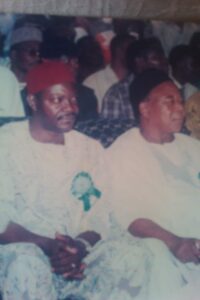 The Leader/Chairman of the Council,Dr Max Nduaguibe during an interaction with journalists in Umuahia affirmed that something is amiss as IPOB says it has lifted the orderbut the whole city continues to observe it.
"We are calling on Gov Okezie Ikpeazu to direct the various Market and Transport Unions to mobilise their members and bring an immediate end to the weekly sit at home which IPOB affirms it has lifted.
"We read sabotage in the continued observance of an order which no longer exists. But the Ukwa la Ngwa people will not stand aside and watch saboteurs destroy the livelihood of indigenes and residents of Aba.
"We know in other South-East cities like OwerriOnitsha and Awka activities have resumed on Mondays, the supposed day of the 'sit at home', why is it a different scenario in Aba? So in our view, it seems to be an act of sabotage to subject Aba to the inhuman condition imposed by the 'sit at home'
Dr Nduaguibe further decried the environmental degradation residents of Aba are instigating in the city by indiscriminate dumping of refuse in gutters and drainages.
"Why are residents of Aba dumping refuse in gutters, and creating flooding that damage the durability of the roads being constructed in Aba? Dr Nduaguibe queried.
He urged the landlords to wake up to the fact that it is their duty to ensure that the gutters or drainages around their premises are kept clean. "It is the civic responsibility of the landlords to keep their environment healthy. It is not government that will do that for them.
Why are people in Umuahia not dumping refuse in gutters?", he asked.
"If it is an attempt to kill Aba, we Ukwa la Ngwa people will not stand by and watch that happen", he declares.
For publication of your news content, articles, videos or any other news worthy materials, please send to newsmirror14@gmail.com. For more enquiry, please call +234- 808-050-9464 or whatsapp. To place advert, please call +234- 808-050-9464.