Udo Abịa, Chief Ahamdi Nweke is a BOT Member of APGA , APGA Abia Central Senatorial Candidate who contested with former Abịa Governor, Senator T. A. Orji in the 2015 Senatorial Election. He was a Governorship aspirant under the PDP for the 2007 Governorship election.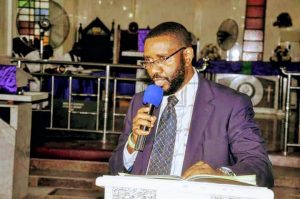 Chief Nweke an APGA party stalwart is a UK Barrister of the Inner Temple, a former Justice for the Inner London Commission of the peace who rose to hearing appeals at the Inner London Crown Court on Youth Court Criminal matters as well as sitting at the Inner London Family Court at Wells Street London.
Chief Nweke was an Adviser to the UK government under the Housing (Right to Manage) Regulations.
Chief Nweke is a progressive who is determined to change the political narrative in Abịa State with his wealth of experience and exposure.
At about 7:40pm on 8th January, 2022, all the good spirited members of Udo Abia Foundation in Nigeria and diaspora and all progressives in the Abịa political struggle would have been thrown into a night of weeping as yet to be identified gunmen intercepted his vehicle at his hometown Umuihe village in Isiala Ngwa South LGA, Abia State, the direct and point-blank gunshots against him at the gate/ entrance of his *Forte Valley* residence left his driver with severe gun wound injuries in what is suspected to be a politically motivated assassination attempt on the political iroko.
The tragedy would have been more deadly if not that the driver in his gushing of blood manageably screeched off from the assassins. The action of the hero of the scene (Udo Abia's Driver) foiled the assassination plot. The driver is in an undisclosed health facility receiving treatment. There is no need for panic as the assailants could not terminate the aspirant Senator (*Udo Abịa, Chief Ahamdi Nweke*).
At this point we are enjoined to remain prayerfully for our amiable leader whom some inordinate politicians have seen as a seed for restoration of hope, substantial developments and would go to extra length to frustrate Udo Abias good innovations. Be rest assured that relevant security agencies have been notified of this dastardly act and will not stop fishing out until the
perpetrators of this heinous crime are brought to book.
Long live Udo Abiaiii Long live Abia stateiii
Engr. Emeka Nelson
SA Social Media to Udo Abịa, Barr/Chief Ahamdi Nweke.