Abia born financial expert and Chairman and CEO NEXTZON BUSINESS SERVICES LIMITED Sir Mac Atasie has identified the Nigeria leather market as one area that has the capacity to drive and diversify the economy of the country through leader productions.
Sir Atasie, a guest speaker at the Nigerian Institute of Leather and Science Technology(NILEST) Leather day Technology and Innovation Expo 2022 held at Eagles Square Abuja, harped on the need for Nigeria to see leather as another big thing in the global market, just like oil.
According to him, without any shadow of doubt, Asia is number one in leather wares production while China alone produces 80% of the same product, reasons being making use of the industrial clusters and their equipments.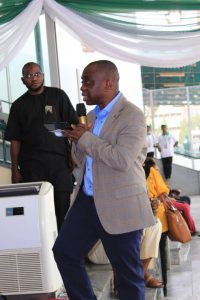 He said" Nigeria is logically said to be poor but poverty is an advantage, it makes cost of labour low, we can produce cheaper and sell more than the foreign companies.
Leather Market is very large, we have over 7 billion people in the world with an average of three pairs of shoes. An average African wears one and half pairs, while an European wears Five to six pairs of shoes.
Without mincing words, through diversification, Nigeria can make 17 billion dollars a year in leather production.
Last year alone, Nigeria generated over 365 million dollars, the shoe industry contributed solely on that.
If we can take 10% of the developed world buys and 30% of what Africa buys, we can produce 1.66 billion pairs of shoes in a year.
Today, Africa does less than 500 million pairs, less than 50 million dollars, we can do 17 billion pairs of shoes in a year with NILEST, ENASCO etc, he concluded.
He enumerated the changes the leather industry in Nigeria needs, which includes; creating a tunnel link between Kano & Aba. He unambiguously stated that there should be a tunnel between Kano & Aba; Kano production is at a certain level, they don't finish processing and they sell to the international Market, the International markets which pay very small to Nigeria and that's what we use here as Tax.
Aba industries produce but because they are selling here in Africa, it makes the shoes very cheap.
According to him, the difference between selling at the high and low price is the quality, cost, skill and machinery.
He came up with the idea that the country should create a link between Kano and Aba to function as one company.
On expanding shoe making in Nigeria, he suggested
that, bringing investors to the leather industry where Aba will be home of shoe making in Nigeria and Africa, would definitely play a vital role in achieving the aim of increasing the country's income through leather productions.
He also spoke about the Eco system which will deal on training and retraining, introduction of vocational training in schools, training people on how to use modern machines in making leather wears and wares, etc.
Sir Mac Atasie added that, marketing is another way of letting the world know what Nigeria is doing in the leather world hence hinting on the importance of getting involved with those in the exportation business.
Thereafter, he left the audience with the following words
" You don't rely on one product for exportation"
"Labour is a key component of any business you are doing"
"Automation of shoe making has paved the way for easy production of shoes and every other leather wear/ware
Highlights of the occasion were the exhibitions of locally made foot-wears, artificial legs and school bags.
The event attracted the presence of Director General & CEO NILEST, Prof. M. K. Yakubu and other top management staff of the Agency.
For publication of your news content, articles, videos or any other news worthy materials, please send to newsmirror14@gmail.com. For more enquiry, please call +234- 808-050-9464 or whatsapp. To place advert, please call +234- 808-050-9464.