There is no better way to capture or measure the mood of Isiala-Ngwa South indigenes on Monday, 28th October, 2019 than the mammoth crowd that thronged Amano Central School, Ngwa Obi 1, Isiala-Ngwa South L.G.A, Abia state. The hall was not just filled to capacity but the number of people outside were quite intimidating.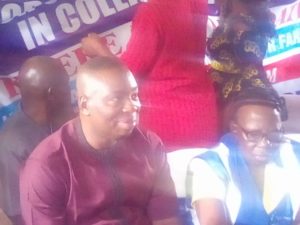 However, the good thing about the gathering was that, there was no election in view, therefore it was not in any way a political gathering, but an empowerment programme fully sponsored by Rt. Hon. Chikwendu Kalu, the former speaker, Abia state House of Assembly and the member, representing Isiala-Ngwa South State Constituency.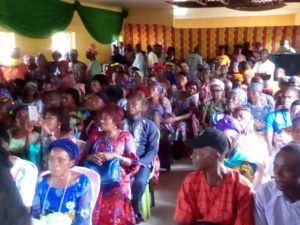 Rt. Hon. Kalu said he had invited the Israeli based Agricultural firm under the Government of International Institution for Coordinated Research, in collaboration with his NGO, KWERE MEE FOUNDATION for a Seminar on Agricultural training for his constituents and their subsequent empowerment after the training.
Rt. Hon. Chikwendu Enyinnaya Kalu, while addressing the crowd identified some of the problems bedevilling the masses and leveraging on the provisions and the power of chapter 2 of the Nigeria constitution that mandates the Government to take certain unalienable responsibilities but regretted that the Government does not seem to live upon the expectations of the masses.
Read AlsoEX – ABIA SPEAKER, RT. HON. CHIKWENDU KALU STEPS OUT IN GRAND STYLE – Set to empower constituents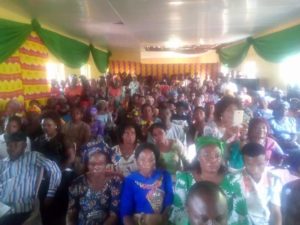 He however regretted that the same provision is not justice scheduled as the citizens may not sue Government for their failures and responsibilities to citizen both of the National, state and L.G.As, and decried that bad roads, lack of portable drinking water, security threats, lack of power supply and absent of enabling environment, with very poor economy has made it inevitable for people to think outside the box and this powered his zeal to venture into Agriculture -for-Empowerment for his people.
Stressing that he brought the Israeli based Agricultural experts from Hebrew University of Jerusalem International (HUJII) to teach his people mechanized farming, away from the normal crude methods of farming, for food sufficiency and wealth distribution, especially from the grass root.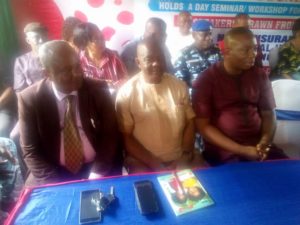 The programme also has provision to send some people to Israel on Education Scholarship.
In her superlative delivery, the team leader, Prof. Agnes Onyeagba, the representatives of Hebrew University thanked Rt. Hon. Chikwendu kalu for his thoughtfulness to bring empowerment to his people and urged them to take it serious as her team of experts are ready to provide all the necessary training and expertise that would make them succeed. Prof. Onyeagba said they have many Agricultural items on their list like:- poultry, cassava, ethanol production and many others, and added that they are making available 10,000 day – old good breed poultry birds in the first phase of their programme, in addition to establishment of demonstration farms across Isiala-Ngwa South LGA and would from time to time, move farmers to Israeli to acquire additional Agricultural knowledge.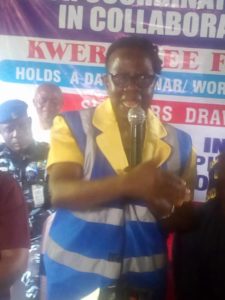 Present during the event are the Abia State representative for Hebrew University of Jerusalem International (HUJJI), Elder Chris Ogbuji, representatives from Central Bank of Nigeria, Mr. Iya Ikongbe, Nigeria Agricultural Insurance Company, represented by Augustine Ndubuisi, Mr. Cyril Osuakwu of capital express Assurance Ltd, Chief Silas Nwosu, an Insurance broker, Chief Mrs. Sarah Ananaba JP, an Ex-Director, Dr. Mike Ukaegbu from Abia State University, Uturu others are Isiala-Ngwa South stakeholders which include:
Chief Hon. Chijioke Akanwa, HOD Nnamdi Evulobi, Sir David Ezindu, Chief Patricia Njoku, Chief Okey Chikwendu, Hon. Kassidy Nwankodo, Barr. Udo Uwaoma, Eze Ukaegbu, Hon. Chief A.C. Ogbuaku, Hon. Mrs. Joy Sunday, Chief Agu Ori, Arch Oge Otigbuo, Hon. Esinwoke Mark, High Chief Tony Ururuka, Hon. Remijus Nji, Barr. Obinna Nwaogwugwu, Dr. Mrs. Kate Obilor, Elder Avoaja, Hon. Jerome Okeosisi, Eze Obi, Chief Mrs. Florence, TCA Udoji, Ebere Njoku, amongst others. Note: Expect the concluding part of this story.