The Spiritual Director of the Adoration Ministry Enugu, Rev. Father Ejike Mbaka on Sunday blessed the Abia State governorship candidate of the People's Democratic Party (PDP), Sir Okey Ahiwe.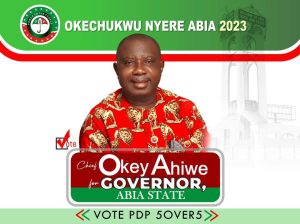 The renowned priest gave his blessing to Ahiwe at the adoration ground, Emene, Enugu State where the Abia PDP governorship candidate worshipped with other adorers.
Sir Ahiwe who is the front runner in the Abia guber race is a Knight of the Catholic Church and recently travelled to Enugu on Sunday to worship at the Adoration Ministry where Mbaka is the Spiritual Director.
Speaking during the release of blessings, Mbaka said that it is his duty as a Spiritual Father to bless anyone that so desires.
He added that it shall be well with Ahiwe as long as his ambition is to better the welfare of the poor masses of Abia State.
The famous priest went further to advise Abia's electorate to look very well before making any choice of a new governor.
He stressed that he is very sure that if the Abia electorate can look well, they will know the person that is deserving of the seat of the next governor of the state.
Mbaka said that he is not after the name of any leader, but is only interested in anyone who will use the opportunity to serve to bring joy to the people.
He stressed that the primary duty of leaders is to bring joy to the people that asked them to lead them at all times and prayed for Ahiwe, wishing him well in his ambition.