Following the death of an apprentice, Kelechi Amadi, on Wednesday, security has been stepped up at the Umuahia office of the Abia State Command of the Nigeria Security and Civil Defence Corps (NSCDC) in order to quell any potential outrage over the 25-year-old's murder.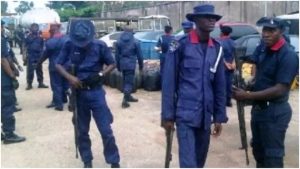 The apprentice was allegedly shot by NSCDC operatives at his master's metal scrap yard in Ubakala, Umuahia South LGA, because he allegedly refused to pay a bribe of N2,000.
Magic FM learnt that the security personnel went to the metal scrap shop at Ubakala at 10 am and asked apprentices in the shop to pay them N2000 'fuel money.' The demand was reportedly rejected by the apprentice and his colleagues on the ground that their master did not instruct them to pay money to anyone in his absence.
Unhappy at the refusal to release the money, the NSCDC operatives allegedly attempted to arrest some of the apprentices, a move reportedly resisted by Amadi.
According to witnesses, one of the NSCDC operatives alighted from their patrol vehicle, approached the workshop, and fired shots at the victim, shattering his thigh and legs.
The operatives thereafter took his unconscious body to the Federal Medical Centre, Umuahia, and left him there without disclosing the real cause of his bleeding.
The victim later gave up the ghost at the emergency department of FMC a few minutes later.
However, the Public Relations Officer of NSCDC in Abia, Ndukwe Agu Egwu, gave a different version of the event.
He said preliminary information indicated that operatives of the corps were on patrol around the scene of the incident when they were attacked by some metal scrap dealers.
Egwu claimed the NSCDC personnel acted in self-defence by firing to "demobilise" the alleged aggressors.
He promised that the command would investigate the matter.
But a source in the command told Magic FM that the alleged killer officer had fled to an unknown place after committing the act and was yet to report to the office as of Wednesday evening.
The source added that the Abia State Commandant of NSCDC, Paul Igwebuike, who was out of the state on official assignment, had been informed of the development and would soon return to carry out a thorough investigation.
Meanwhile, the body of the victim has been deposited in the FMC mortuary pending an investigation.