As the race for the Local Government Election in Abia state slated for the 18th of December, 2020 draws nearer, aspirants are on the move, engaging the executives and party faithfuls for their support.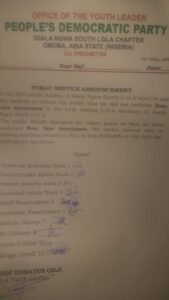 In Isiala Ngwa South, the race is a horse – trading with many gladiators and at the last count, about eight people are in the race to get their party nomination as the standard bearer.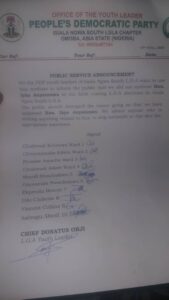 Few days ago, the PDP Youth Leaders, led by the LGA Youth Leader, Hon. Donatus Orji were invited for a meeting in the country home of Chief Iyke Anyatomwu, one of the aspirants for the Chairmanship slot.
After the meeting, facts emerged that they endorsed the aspiration of Chief Iyke Anyatomwu popularly called EMETUMBA.
However, the Youth Leaders, from all the ten (10) wards of Isiala Ngwa have now come public to deny the said endorsement and warned mischief makers to desist from sharing fake news, insisting that as party executives, they are not supposed to endorse an aspirant and therefore, it never happened.
When newsmirrorng.com called the LGA youth Leader, Donatus Orji, he confirmed that the refutal letter signed by him and all the ten ward Chairmen is authentic and clearly states their position, warning rumour mongers to stay clear from bearing falsehood.
Don Orji urged all Chairmanship aspirants to prepare themselves for the primary election to show their popularity and acceptance, stressing that nobody is a preferred candidate of the party until after the primary election.