Ejiro Gray Okoro is a son of Chief Samuel Erikefe Okoro(JP) The Ezomo of Idjere Kingdom, Member Delta State Advisory And Peace Building Council Delta State. Ejiro Gray Okoro a vibrant and talented man who is endowed with great potentials in life.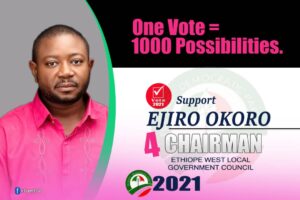 Mr Okoro is a man that achieved success through hardwork and is always diligent in his field of work.
In service to humanity, Hon. Okoro Ejiro remains a Colossus and a force to reckon with. He believes in Human Capital Development.
Hon Okoro, through his Foundation touched the life of the less privileged in the society.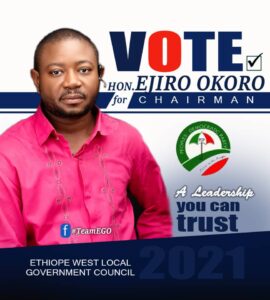 As the contest for the Delta State Local Government Elections commences, Hon. Ejiro Okoro has embark on consultations and creating of awareness in the various wards of Ethiope West Local Government Area.
Mr Okoro's Ambition is a noble one and we urged all the good people of Ethiope West Local Government Area to give him the maximum support.
Let us support Ejiro Okoro.
It must definitely ends in praises.