A young Nigerian has been murdered in the United States five months after graduating from Virginia Tech, where he studied Industrial and Systems Engineering.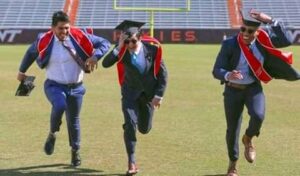 Alexander Nwogu, 23, had just been hired as a tech consultant with Ernst and Young before he was murdered on Monday at the Shell gas station in the 4900 block of Connecticut Avenue, according to the Metropolitan Police Department.
A police report said Nwogu suffered blunt trauma to the back of his head and a single gunshot wound to the middle of his back.
According to Virginia Tech, Nwogu graduated in May with a bachelor of science in Industrial and Systems Engineering degree.
"It is a tragic loss of a very promising life," said Charlie Klauer, an associate professor who advised Nwogu on his senior project in the Department of Industrial and Systems Engineering.
The deceased is the son of Brigadier General lgnatius Enyeribe Nwogu from Obizi in Ezinihite Mbaise LGA of IMO State.He is living with his brother and sister who are also students in the US.
May His Soul Rest In Peace