Friday, 8th January, 2021, the Founder/BOT Chairman, NCHETA OMEREKPE FOUNDATION, Chief Ncheta Elvis Omerekpe, played host to the members of the foundation across Abia state in his Umuakwu Nsulu, Isiala Ngwa North, Abia state country home.
It was an opportunity for him to thank the members of the foundation for their committment to the ideals of the foundation which is pivoted on humanitarian services.
Chief Omerekpe reminded the members of the foundation that the foundation is not a political movement but was expanded as to reach – out to more people, in his quest to develop communities, empower the needy and take the youths out of the streets, a gesture he started about 15 – years ago.
He added that; the foundation will be first of it's kind in the whole of South East as plans are on the way to empower and lift about 4000 Abia youths, men and women out of poverty line before the end of 2021 and urged all to pray to God for good health.
Chief Okoro Omerekpe donated cash, cow and bags of rice to the members of the foundation across the 17 LGAs in Abia.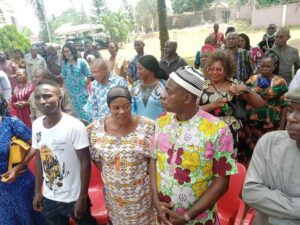 Earlier, the Acting Director General, Chief Nnamdi Okogbue , High Chief Ogbu Ikpe Aba ( Deputy DG), Chief Ebere Okarter , ( Director Admin and Finance), Elder Abraham Nwakwue, ( Director; Contact and Mobilization), Prince Clinton Uba (Director; Media and Publicity / BOT Secretary in their various speeches, poured encomiums on the members of the foundation and admonished them to always be of good behaviour and inculcate the spirit of "Leave No One Behind" in their various areas of operation.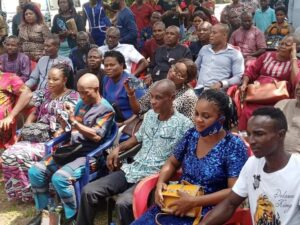 Reacting, a member of the foundation, Benjamin Osondu Nwankwo from Asaga village, Arochukwu LGA, described Ncheta Omerekpe as a very simple and kind hearted man with good upbringing and accessable, he prayed and wish he could contest elective position in Abia.
"The way Abia is now, we no longer need where someone is coming from, we need someone who has clear record of services rendered and referencing score card of services, Ncheta has it. Imagine hosting 108 Executive members of the foundation at the LGA level and all of us are happy. The most intriguing is that; he has not held any political position in Abia or Nigeria, Mr. Nwankwo added."
In her contribution, Mrs Maureen Moore described Chief Ncheta Omerekpe as an epitome of grace, humility and love by his quick-witted nature and has proven that he is not part of the problems of Abians but rather the answers to their clarion call for God's intervention in the state.
In his vote of thanks, Elder Alozie Umesi, thanked Chief Ncheta Omerekpe, reminding him that all the members of the foundation are proud of him and have found fulfilment to be part of foundation by working with the man with the golden heart, who has demystified love for mankind across the board without sentiment, describing him as a rare breed and special gift to humanity.