She's the CEO Morayo creams and sunderies and guarantees all a radiant , glowing, free itch skin.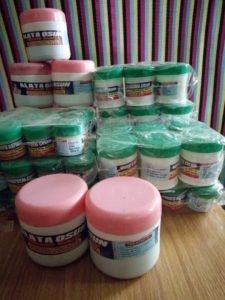 MORAYO CREAM
Treatments on
*Pimples,
*Rashes ,
*Eczema,
*After Shave,
*Athletics foot,
*Dandruff,
*Bed Rashes e.t.c.
AND
ALATA OSUN
Black. Soap
Treatment on:
*After Shave,
*Anti ageing effect on *wrinkles and line,
*Remove dandruff,
*Help fighting ache,
*Relieving effect on *irritated skin e.t.c.
+Distributor and Whole sale are available, call this number for more details 08114234771.
Made in Nigeria.
Produced and parked in Osun state.
Give it a trial and testify.
Powered by Morayo for Nkemdi Mordi Development Initiative(NMDI) Bringing Hope, Lighting lives!