Good Morning Distinguished Ladies and Gentlemen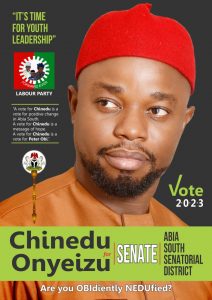 It gives me a great pleasure to stand before you today to address you on a subject that I consider important to every young man and woman of Nigerian origin.
About four years ago I stood before you in this great city of Aba to solicit your support in my aspiration to become a nominee of the ruling All Progressives Congress in Abia-South Senatorial Zone for the 2019 senatorial elections.
You came out in your large numbers to back me and you worked tirelessly to convince men and women, young and old in all nooks and crannies of Abia South senatorial zone that APC holds the key to the change that is urgently needed to impact their lives positively, and unlock the potentials of young men and women that this nation has produced.
In February 2018 when we joined APC, the party was largely struggling to find its feet in Abia South. Within a short period our team of enthusiastic and dedicated followers built amazing relationships and structures at every ward in our zone and consequently APC grew phenomenally. Today, the party is leveraging on our efforts to expand her foot print in our zone.
We were propelled by a common goal to change our narrative as citizens of this great nation for good. More than two decades had past in unbroken democratic governance and yet we are left with the fate of having nothing to look backwards with pride and nothing to look forward to with hope.
Let me use this opportunity to express my profound gratitude to you all for your belief, commitment and faith in this struggle for a new re-birth for Nigeria.
I am particularly grateful to the elderly woman, who fries bean cake (Akara) on Obohia road. She was amazing in her support. During our 2018 door to door campaign she donated N3, 800 as her contribution to my campaign. Such gesture gets me fired up!
I must give credit to the young men and women – both party and non-party members who swore with their lives to defend my votes at Park road, Aba during the 2018 APC primaries election. I salute you all.
My friends and fellow comrades in the struggle, you will all agree with me that the outcome of the recently concluded national convention of APC leaves little or no hope for the masses of Nigerians going forward. Our worst fears have been underlined by the outcome of that event. Nigerian youths have once again being schemed out in determining their future. I no longer see APC as a vehicle to leverage in bringing about the change we seek for the good of Nigeria.
As I returned back from APC national convention, there has been significant pressure by our supporters and followers for us to join hands with His Excellency, Mr. Peter Obi and Dr. Alex Otti the Presidential and Abia State Governorship Standard bearers in the incoming 2023 elections of Labour party respectively to actualize our dream of effecting an enduring and rewarding change in our country.
As a Sloan Fellow of the prestigious Massachusetts Institute of Technology (MIT), USAmy drivers and objectives for joining politics have not changed from serving our people at different capacities, constructively challenging the status quo and ensuring that the people's desire for a better life is actualized. We must see ourselves as change agents and leaders at all levels. We must collectively feel the same burden of betrayal and neglect by those we have elected to positions of authority and move in groups to take back our state and country before its too late.
I have given a serious thought to the call to join Labour Party in the capacity of Abia South Senatorial Nominee and I consider it a great honour and privilege to announce to you today that I have decided to honour the invitation of going over to LP to continue with the struggle. I will lead from the front always. That is my pledge. I am convinced that both Mr Peter Obi and Dr Alex Otti are on the same page with us in this struggle.
Let me inform you that I had the singular honor of hosting the next Governor of Abia State Dr. Alex Otti at my residence in Lagos and we held fruitful talks on how to move Abia and Nigeria forward.
Consequently, I have directed my team to re-open our campaign office at No 44 Pound road, Aba as Nwa Aba! to kick-start registration of volunteers for our door to door awareness programs and campaign.
If you're a youth, a mother, a civil servant, and a student in Abia South Senatorial district then you're a critical stakeholder and I appeal to you to join me, join Alex Otti Mr Peter Obi to re-write our story on the sands of time. If we put our minds and commitments to it, we can help make Nigeria work for Nigerians.
Ladies and Gentlemen, let me close this address by inviting you to join me and great achievers that our country has produced to build Nigeria of our dreams through the LP vehicle.
Thank You and God Bless You
Long Live Abia South Senatorial Zone!
Long Live Abia State!!
Long Live Federal Republic of Nigeria!!!
Engr. Chinedu Onyeizu
June 30th, 2022.