My name is Ncheta Elvis Omerekpe, my business cuts across construction, Agriculture and hospitality.
I have a foundation that reaches out to the needy in all the 17 LGAs of Abia State.
For the past 16 years, i ve been into philanthropy but about 4 years ago, i was encouraged to make it formal, which led to the launching of Ncheta Omerekpe Foundation.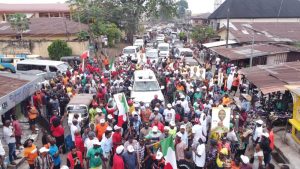 My experience with the Foundation is the propelling force that is driving my ambition to run as the Governor of Abia state in 2023 under our great party, PDP.
The feedback from the activities of the Foundation came face to face to me, with many issues needing attention, which are mere symptoms of deep lying structural challenges confronting Abia state.
We as a team, reasoned that some of these challenges are beyond the scope of an independent action rather requires the attention of a passionate heart, under a focused governance.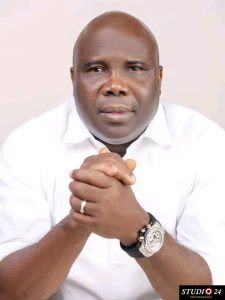 Having gotten the needed feedback from every nook and cranny of Abia state, from Arochukwu to Ukwa LGAs, my team has envisaged and envisioned Abia that is at it's best.
We have developed a roadmap to take the state to it"s proper destination. That was my reason to offer myself for this public service to harness the potentials of our state, and i promise to lead you with the fear of God.
If i had over the years attracted projects worth billions of naira as an individual, why can't i do it for Ndi Abia, with their resources at my disposal.
Despite the resources available to me, i live a simple lifestyle in a 4 – bedroom bungalow. God has blessed me with the resources to live in mansions if i so desire but my question has been; how many rooms will i sleep at the same time, while many people are suffering and cannot afford to feed their families while our youths jobless and live without hope after graduation and others not handy to acquire skills with startup capitals.
Greed and acquisition of wealth and properties don't thrill Ncheta Omerekpe, my happiness in life is seeing people happy. It adds blood to my system and puts a smile on my face.
Abia state Government under my watch will make no excuses for failure. We will take off from where we are, use what we have and do whatever is necessary within the ambit of legitimacy, guided by God and good conscience with the passion to excel and write my name in good, achieve our vision for Ndi Abia.
Thankfully, Abia is richly endowed with human and natural resources.
Our brief is simple – to organise the development of our vast resources to make Abia firmly rooted in path of sustainable, equitable growth and development.
My take is that, Government exits for the people and not for few individuals – this has been a point of conflict.
My action plan rests on some cardinal points such as;-
a) Security
b) Healthcare
c) Education
d) Transparent and process driven governance
e) Human Capital Development
d) Creating sustainable economy and business opportunities to our women and youths
e). Make the payment of workers and pensioners a first line charge priority
f) Sustain and improve on a cast – Iron revenue automation system that will end revenue leakages
g) Agricultural development programmes
….and many more that are captured in our manifesto.
I am a 52 – year old young man – vibrant, active, educated, focused on achieving our collective successes as a state.
Despite my upliftment by God, i am accessible but has zero tolerance for greed, corrupt enrichment, abhor injustices and hate the sight of them.
Ndia Abia, i request that you entrust me, Chief Ncheta Elvis Omerekpe with the responsibility to become the next Governor of this state come 2023 and i promise, you will have no regrets after 4 years
We shall start from where Gov. Okezie Ikpeazu will stop and make a better Abia. Gov. Ikpeazu has laid a foundation for Abia rebirth. I will nurture the growth indicators to the applause of Ndi Abia, Abia residents and visitors at large.
Finally, to our dear delegates – I WILL STAND FOR THE PARTY PRIMARY ELECTIONS.
So, the future of Abia is in your hands. Vote right, vote a youth, cast your votes for Chief Ncheta Elvis Omerekpe ( ODOZI OBODO), during the PDP Governorship primary election.
The time is here once again for us to chose the best road to follow, don't allow relentless drift of events to take decisions for you.
Ndeweonu !!!
Chief Ncheta Elvis Omerekpe
( ODOZI OBODO )
For publication of your news content, articles, videos or any other news worthy materials, please send to newsmirror14@gmail.com. For more enquiry, please call +234- 808-050-9464 or whatsapp. To place advert, please call +234- 808-050-9464.