A 27-year-old Delta man, Emmanuel Sanwo-Olu, is laying filial claims on Governor Babajide Sanwo-Olu of Lagos. To ascertain his claim, the man has also requested for a confirmatory DNA test.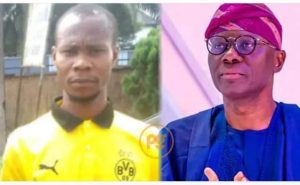 Emmanuel went public with the shocking revelation about his potential paternal identity on Tuesday, stating his mother had recently informed him that the governor is his father.
He expressed his strong desire to meet Mr Sanwo-Olu, whom he believes is his real father.
According to him, his mother, who hails from Oleri community in Udu Local Government Area of Delta, had only him with the current Lagos State Governor before she went ahead to marry another man, who she had his other siblings with.
Speaking to journalists at the premises of the Delta State High Court 2 in Effurun on Tuesday, Emmanuel said: "I am 100 per cent sure that I am the son of Governor Sanwo-Olu", the young man insisted, saying, "I just want to see the man, sir, as my father."
At the time of filing this report, neither Mr Sanwo-Olu nor his office has responded to the Emmanuel Sanwo-Olu's claims.