Ways To Save More Lives In Covid-19 Pandemic And Post Covid-19 Period
With Your Monthly Donation of A Paint Of Rice Or Beans Or Garri Or #500, Collectively It will Help Us Reach Many Vulnerable Communities And Save More Lives .
When we only talk about an issue and do nothing afterwards, it is worse than not complaining at all.
When we think that something can be better, we should collectively make a bold step and take action to make it happen no matter how bogus it might seems to others..(Mr Willed )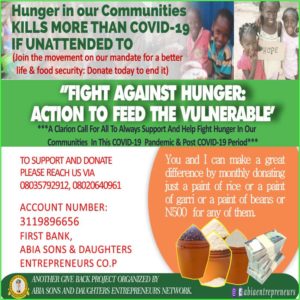 A Non- governmental Organization, Abia Sons and Daughters Entrepreneurs Network has step in to help alleviate the suffering and pains of the Vulnerable ones in the society through their FIGHT AGAINST HUNGER AN ACTION TO FEED THE VULNERABLE IN OUR COMMUNITIES.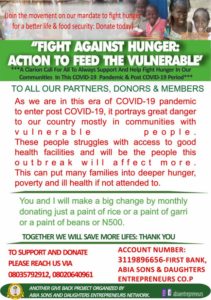 I
The founder, Elite Eberechukwu Ebi said that as part of their organization objectives to always give back to our communities and proffer solutions for sustainable growth and economic development in our country. We are for greatly disturbed that in this era of COVID-19 pandemic to enter post COVID-19 period, it portrays great danger to our country, especially
communities with vulnerable people. These people struggles with access to good health facilities and will be the people this outbreak will affect more, this can put many families into deeper hunger, poverty and ill health if not attended to, that's why we appeal to all Good Spirited individuals of Abians and Non-Abians to join and support us stop hunger amidst the vulnerable in our communities in Abia State.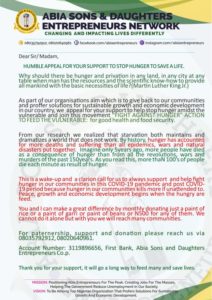 She said that Researches showed that hunger and starvation are more dreaded than any disease if unattended to as 100's of people die each minute as a result of hunger..so bad.
The movement according to the organization is a our mandate and a clarion call for all to support fight hunger in our communities in this COVID-19 pandemic and Post COVID-19 period.
Why should there be hunger and privation in any land, in any city at any table, when man had the resources and the scientific know-how to provide all with the basic necessities of life?(Martin Luther King Jnr.)
Together we can make a difference to save more lives because peace begins when the hungry are feed..
For Partnership, support and donations please reach us via 08035792912, 08020640961
Account Number:
3119896656,
Abia Sons and Daughters Entrepreneurs Co.p.
Thanks