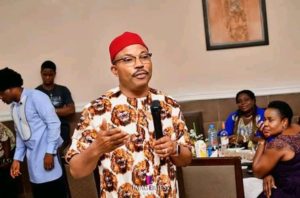 Engr. Obi Uzu is a business man, natural and born philanthropist from Umuokenyi in Ndiolumbe Nvosi Autonomous Community, Isiala Ngwa South Local government area, who have in many ways contributed immensely towards the rapid growth in Ndiolumbe Autonomous Community.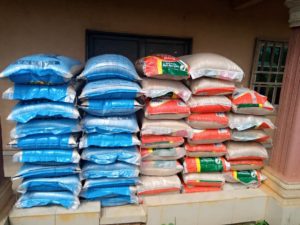 It is on record that Engr. Obidike Uzu for the past 8 to 9 years and till today, have being awarding scholarship of fifty thousand naira (#50,000) each to every undergraduates who are bonafide indigenes of Ndiolumbe in various tertiary institutions in Nigeria. Through the platform "Ndiolumbe Progressive Movement (NPM) " and have vowed to continue with the scholarship program as it will go a long way in mitigating illiteracy in the community.
Permit me to also let you know that he contributed massively in the building of Ndiolumbe Modern Market. He is not a political office holder neither is he a politician. He does all these with his hard earned money and said he is anxious of doing things that will bring rapid growth in the community.
As the world is facing a very difficult time with the current Corona Virus Pandemic that is all over the world, he deemed it feat to send in some relief materials (50 bags of rice) to the people of Ndiolumbe Autonomous Community to help in cushioning the negative effects of the Corona Virus Pandemic.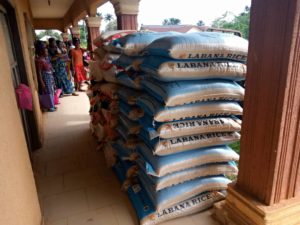 While giving out the materials to the people of Ndiolumbe, Comr. Nwazuo Steve who happens to be the pioneer president of the apex youth body in Ndiolumbe and who also represented him (Obi Uzu) advised all to pray for the world as this is a time for sober reflection, stressing that our powers and intelligence has failed us and that GOD is the only ONE who can bring solution to the problem the world is facing today.
The palace secretary, Chief Eze Nwauzor who represented HRH Eze Dr. G.A Ogbonna, Eze Eziaha 1 of Ndiolumbe thanked the donor for remembering his people (Ndiolumbe) by bringing in some relief materials in this hard and crucial time. Praying that God will continue to bless him as this is not his first time of bringing kind gestures to the people of Ndiolumbe.
In attendance during the event are Hon C C Nwamaghinna(Mentor), Comr. Nwazuo Steve, Comr. Christian Ndukwe, my humble self Comr. Bethel Agbara, Felix Polymath, Goodluck Chibuikem Ephraim, Nkasiobi Chuks, Patrick Ufomba, village heads, village chairladies and their secretaries.