Mr. Sonnie Bassey, the Calabar based man hose lawyer wife, Claret Opara Bassey, reportedly died in a lone accident on Murtala Mohammed highway in Calabar on Sunday, September 18 has finally broken his silence over the incident.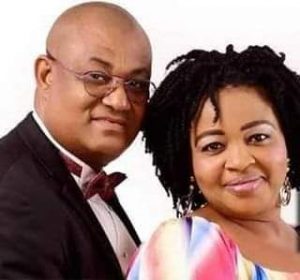 The incident had been enmeshed in controversy as different tales were woven around it, the most popular of which was the claim that the deceased woman, acting on information that her husband was seen in a shopping mall with a side-chic (girlfriend) was chasing her husband when the accident that killed her occurred.
As the story goes, Bassey had sighted Claret as she arrived at the shopping mall and immediately zoomed off while Claret also ran after him. They both drove on the highway until the point of the accident as Claret allegedly tried to overtake Bassey who immediately veered off the highway with the result that she lost control of her car, ran into a ditch and also collided with a tree.
Thereafter, there was also a story that made the rounds last week that Bassey had fallen into coma and died.
In a telephone conversation with our correspondent, however, Bassey dismissed the various tales as nothing but figments of the imagination of their peddlers, saying that his family and that of his late wife will be talking to newsmen after the deceased woman is buried.
He said: "Journalism goes beyond writing something you just hear from others. I have spoken with my elders, my relatives, my pastor and lawyers, and I have been advised to remain quiet for now.
"I want to bury my wife and give her that respect.
"My wife is not the first woman that has died in a motor accident. It is quite unfortunate.
"You know that I'm a Christian. We believe that nothing surpasses the knowledge of God.
"Be that as it may, if there were not to be all those write ups and even extra length suggesting that I have been in coma and I'm dead, maybe I would have granted an interview.
"My wife was dead at the time I took her to the hospital, so there is no way she could have granted anybody an interview.
"From the things they wrote, it was as if the person was actually with my wife or my wife had told the person this was what happened.
"To the best of my knowledge, nobody was with my wife in her car, but they were saying things as if my wife had told somebody what happened.
"Be that as it may, as I mentioned earlier, I have chosen to be quiet until I bury my wife. After that I intend to have a press conference.
"Even the two families, my wife's family and mine, intend to issue a briefing, but they also chose to be quiet at this point.
"So I want to crave your indulgence that you people should respect our space for now, because this is something that can happen to anybody.
"Even as I am, one day, I will also die. I am from Akwa Ibom where we respect the dead."
Bassey and her deceased wife had enjoyed an enviable relationship, and not a few people have attested to how good a husband and father he has been to his wife and children.
"He loved his children so dearly and did also cherish his wife. They started their relationship from the university," said an associate who pleaded anonymity while also disputing the various tales and allegations against Bassey.
According to her, nothing happened at the shopping mall concerning Sonnie and the late wife. She said Bassey was rather at Stadium Restaurant where he often goes to stay and play scrabble."
She said they met around stadium and the wife drove after the husband.
According to her, "Sonnie's (Bassey's) car has tinted glasses. How then is it possible that someone saw the person inside and was following the allegations from the shopping mall to the accident point? I don't know what such a person wanted to achieve."
A child rights activist, Mr. Sam Egbala, said his "concern in the whole incident is the well being of the children between Sonnie (Bassey) and his late wife.
"It is important the children are not bombarded with stories that may have psychological effect on them.
"Assuming the allegations are true, nobody should blame the man. It is the alleged informant who told the late wife about where the husband was and what he was doing that should be blamed.
"People should learn to mind their business. Supposing the purported 'side chic' was someone different from the allegations, what achievement would the informant claim?
"In all, we should respect the man and the two families involved."
A few friends on social media had tried to pour their hearts in either a tribute or a comment over the incident.
Queenofhearts Oyoyo said on a Facebook page: "My friend is gone. Barr. Claret Bassey, you were intimidated, subdued, abused until you gave up. I told you to focus on yourself and your kids. What happened that you didn't call any of your bone friends as usual? I am broken into pieces.
"Death silenced you, you became weak and vulnerable. People are judging you, saying unprintable things about you because they have not fitted your shoes let alone wearing them."
Another friend said to Claret in a tribute, "You were so passionate and zealous about anything you believed in. You take time to cross the Ts and dot the Is."
"Your life revolved around marriage and parenting. You were made to give up your dreams, visions and career just to be a perfect wife and mother."
Queeneth Edeke had this to say: "Someone is dead and people are busy dropping insensitive comments.
"The comment section is flooded with "women should learn" everyone is victim blaming.
But I'm yet to see a comment addressing "Men's lack of empathy and human conscience" "why men should stop cheating".
The reason why people go through hardship and misfortune in life most times is because of the way we treat our fellow human beings."
"Whatever you do will surely come around."