Chief Vincent Ogbulafor, an Umuahia prince and famous former National Chairman of the People's Democratic Party (PDP), is dead. He was aged 73.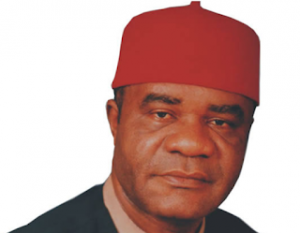 He died peacefully early Friday morning, according to family sources. "Dede Ukwu, Hon. Vin. Ogbulafor passed on last night. He died in Canada," a message from his relative revealed on Friday night.
"Chief Vincent Ogbulafor KSM really died in the early hours of today in Canada at 73. The Royal Family of Ogbulafor will announce a date for the burial ceremonies, which will most likely take place next year," Chief Goddy Uwazurike, a lawyer and close associate of the deceased said."
"He was the head of the family. Eternal rest grant unto him O' Lord. Let perpetual light shine on him," Uwazurike said.
He had said his ruling PDP at a time would be in power for 60 years, a dream that never came to pass, following the Party's loss to the All Progressives Congress (APC) in 2015.
Ogbulafor became PDP national chairman on March 8, 2008 and was very influential as a PDP scribe and National Chairman.
Sources close to the family confirmed the death of the former member of PDP Board of Trustees (BOT) on Friday night