The Abia PDP Governorship Candidate for March 18 elections, Sir Ambrose Okechukwu Ahiwe, also a Knight of the Catholic Church has congratulated Arch. Bishop Fortunatus Nwachukwu on his new appointment by the Pope, describing it as a call for more service to God and humanity.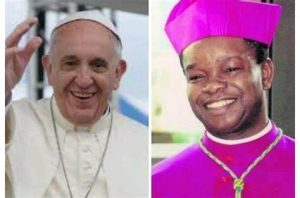 Sir Ahiwe who was reacting to the good news from the Vatican says, Arch. Bishop Nwachukwu is an Ambassador, not just for Christ alone but for Abia, Nigeria and the Catholic Community all over the world and urge him to use his new position to continue to sew good seeds in the vineyard of God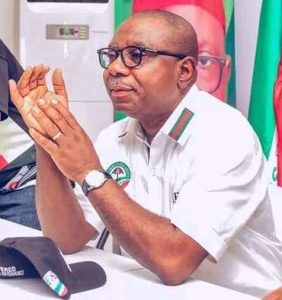 Recall that Arch. Bishop Fortunatus Nwachukwu was recently appointed Secretary of Dicastery for Evangelization, Section for First Evangelization and the New Particular Churches.
The Holy See Press Office had announced the papal appointment on Wednesday.
Before now, Archbishop Nwachukwu, was the titular Archbishop of Acquaviva, and has served since 17 December 2021 as the Holy See's Permanent Observer to the United Nations and Specialized Institutions in Geneva and to the World Trade Organization.
He also served as the Representative of the Holy See to the International Organization for Migration.
Archbishop Nwachukwu was ordained a priest of the Diocese of Umuahia, in Nigeria, on 17 June 1984, and was later incardinated into the Diocese of Aba on 2 April 1990.
In 2012, Pope Benedict XVI appointed him as the Apostolic Nuncio to Nicaragua, and made him the Titular Archbishop of Acquaviva.
He later served in the Antilles from 2017 as the Apostolic Nuncio to Trinidad and Tobago, as well as to Barbados, Dominica, Jamaica, Saint Kitts and Nevis, Saint Vincent and Grenadines, and Guyana.
Archbishop Nwachukwu also took on the role of Apostolic Nuncio to Saint Lucia, Grenada, Bahamas, Suriname, and Belize in 2018.
Sir Ahiwe prayed to God to guide and protect him in his new assignment