Former National Publicity Secretary of the Peoples Democratic Party (PDP) Olisa Metuh has called on Nigerians to pray for him over his health.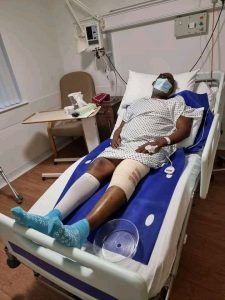 Metuh, in a terse post on his official Facebook page, accompanied with a photo of him on the hospital bed, said he's had many surgeries in the last year.
He said: "In the last one year, I have had many surgeries and procedures and I am believing God this will be my last.
"No matter how angry you've been about my outspokeness or outright naked challenge to power back then, please pray for me.
"The cankerworm had eaten deeply into my health, it has not been easy and I have only remained whole through the mercies of God.
"I got some [scary] news from the surgeons today but my faith remains in God Almighty and with your prayers and by His stripes I am healed and would remain whole in Jesus name."
We should recall that Olisa Metuh was convicted by a Federal High Court Abuja under Justice Okon Abang but have his conviction nullified and have since is been tried for corruption offences
[Nation]