The National Judicial Council has recommended some names for appointments to the Court of Appeal bench and other judicial posts.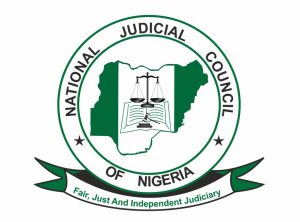 In a statement on its Twitter handle and signed by the council's Director of Information, Soji Oye, on Friday, it made the recommendations for the appointments of nine candidates to the Court of Appeal bench and 27 other judicial officers.
The statement followed the council's meeting which took place between 14th and 15th June 2023 and was presided over by the Chief Justice of Nigeria and chair of the council, Olukayode Ariwoola, where the recommendations were made after considering the report of its Interview Committee.
The report contained a list of 37 candidates recommended for various judicial positions.
The nine recommended justices for the Court of Appeal are Justices Asma'u Musa Mainoma, Paul Ahmed Bassi, Hannatu Azumi Laja-Balogun, Binta Fatima Zubair, Hadiza Rabiu Shagari, Peter Obiora, Justice Okon Abang, Jane EsieInyang, Lateef Adebayo Ganiyu.
Justices Dije Aboki, Daniel Okungbowa and Matilda Ayemieye were nominated as the Chief Judges for the Kano, Edo and Bayelsa States High Courts respectively.
Also, Justice Catherine Ojugbana-Orishedere was nominated for the position of the President of the Customary Court of Appeal in Delta State while three justices; Lilian Terseer-Tsumba, Patrick Oche, and Ukande Peter were recommended as judges for Benue State High Court.
For Delta State High Court, five persons namely; Ukande Mvendaga Peter, Adolor Sunny Onorieukuhakpo, Samuel Ifeanyi Okeleke, and Umuko Aboyowa Godwin were nominated, while the eight nominated for Edo State High Court were Ovenseri Otamere, Obayuwana Osarenren Mathias, Edoghogho Eboigbe, Ojo Maureen Osa, Bright Eraze Oniha, Ehinon Anthony Okoh, Godwin Jeff Okundamiya, and Osayande Ikwuemosi Awawu.
The four justices recommended for Katsina State High Court are Nuradeen Abdulmumeen, Halima Lawal Bagiwa, Abdullahi Bara'u Faskari, and Sanusi Ma'aruf Aminu, while Iortyer Vihilun Fidelis, Gbakeji Michael Emakpor, Uraih Tracy Patricia Ifeanyi, and Sofowora Oriyomi Abiodun were nominated for the Customary Courts Of Appeal in Benue, Delta and Ogun States respectively