When we say government is a continuum some attention seeking folks doubt the wisdom of elders obtained through the hard knocks of experience.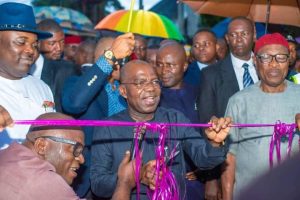 This is the same Cemetary road, Aba, that Governor Alex Otti claimed he commissioned recently as part of his 100 days in office achievement. The total length of what his aides called phase 1 is not up to 400 meters, but of course the Governor misled the public when he claimed to have "commissioned the Cemetry Road," in the attached tweet.
Cemetary road is actually longer than 3km as it crosses the railway line towards Omuma/Osusu road.
Watch the videos and see what has happened to the "new Abia" Cemetary road while I tell you the story as it concerns Former Governor Ikpeazu.
Forner Governor Okezie Ikpeazu started the reconstruction work along Cemetary road by establishing the drains beyond 200m from the Ngwa road axis and then stopped the work.
Why did Ikpeazu stop the work?
He was waiting for the contractors handling Ngwa road project to tunnel beneath Asa road by Asa triangle, and drain the water through Ngwa road so that storm water from Cemetary can also offload into the major drain pipe.
Unfortunately, his successor who was looking for only applause and low hanging propaganda materials that will dwarf whoever, jumped into the project without adequate information and study of the integrated drainage design that Ikpeazu produced for the area and which is available at the ministry of works.
The flooding in this video is what happens when leaders jump into a vehicle that they know nothing about it's destination….e go carry you go where you no know!!!
Tax payers money wasted within days.
Now the same traders that applauded Otti are raining curses within 5 days.
Mr Governor, it is time to de-emphasize propaganda and do the work that will outlive your administration. The major roads done by HE Okezie Ikpeazu in his first 100 days: Ukaegbu, Ehere, Umuola, Kamalu etc outlived his administration and still in good condition today.
E get why!!!
Development must proceed in an integrated fashion, if you wish to make a lasting mark in leadership. For a good road project in Aba, for instance, you need drainage interconnecting the various channels, you must also determine where the run off will terminate and through which drainage artery. That was exactly how Ikpeazu solved ukwu mango Aba and perennial Aba road Umuahia problems.
Governance is a very serious phenomenon and the worse attitude to bring to it is "Eze Onyeagwalamism".
-Nwandugbom will be your best friend if you humble yourself and listen….forget hallelujah boys!!!