A 44-year old man has been arrested with over half a million tablets of tramadol.
The suspect, Mr Chijioke Okeke was arrested by the National Drug Law Enforcement Agency, NDLEA with five hundred and forty eight thousand (548,000) tablets of tramadol discovered from his warehouse at Number 3 Atuanya street, Maryland Estate, Nkwelle, Oyi Local Government Area of Anambra State.
According to a press release by the Director, Media and Advocacy, NDLEA Headquarters, Abuja, Mr Femi Babafemi, the arrests and seizures of the tablets were made after the agency received crebile intelligence that the suspect stockpiled his warehouse with the illicit drug weighing about three hundred and two point five (302.500 KG) kilogrammes.
The suspect, Mr Okeke has since accepted ownership of the drug and confessed to the crime.
The press release said the tramadol were manufactured in India, smuggled into Nigeria without the certification of the National Agency for Food and Drug Administration and Control, NAFDAC and rebranded tarkadol to evade attention.
It also revealed that the drug whereas it was written one hundred (100) miligrammes, upon laboratory reexamination showed it was two hundred and twenty five miligramme (225mg) and also tested positive to amphetamine.
Amphetamine is a central nervous system stimulant that its use results in an increase in certain types of brain activity, resulting in a feeling of higher energy, focus, confidence, and in a dose-dependent manner, can elicit a rewarding euphoria.
It is used to treat hyperactivity in young people including attention deficit hyperactivity disorder and narcolepsy, a condition in which people fall asleep suddenly.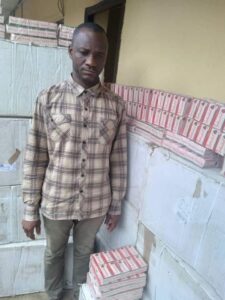 Methamphetamine popularly known on the streets as "mkpụrụmmiri" or "crystal" is a type of amphetamine.
Also, during the search of the warehouse, a double barrel pump gun with three live cartridges,which its licence expired since 2019, was also discovered and recovered.