Something significant happened on 22nd March, 1993. It was the day United Nations General Assembly set aside as WORLD WATER DAY and from that day, the world celebrates 22nd March of every year as world water day.
That singular recognition coming from the world respected International organization underscores the importance of water to human lives, especially in Africa.
Thus, the provision of clean water is a fundamental requirement in the life of human beings whereas the lack of same posses a very dangerous threat and raises health concerns as it is said globally that, " Water is life".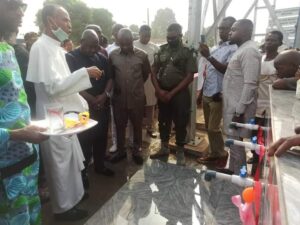 Despite the existence of several government and International agencies that encourage the provision of clean drinking water like Abia State Water Board, USAID, UNICEF, WORLD BANK, BELGIUM FUND etc, it is on record that the access to clean and improved water is still a far cry to the citizenry in this clime.
For instance, Abia state has 57 Water schemes across the 17 LGAs but, none is functional. And out of the 57 schemes, 5 are located in Isiala Ngwa North. They are:- Nbawsi, Ngwa Ukwu, Ntigha, Uratta/Umuoha and Okpuala Ngwa. Sadly, not even one is functional at the moment.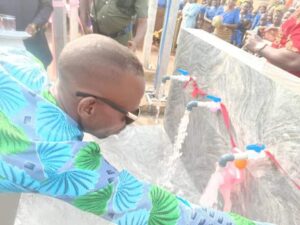 Therefore, Chief Ncheta Okoro Omerekpe saw the need to save his people from this perennial challenge and has already provided 16 solar energy powered water boreholes for all the 8 clans of Umaukwu Nsulu and to individuals and also extended same to Eziala, Ubaha and Umuala communities, all in Nsulu, Isiala Ngwa North, Abia state.
The latest water project at Ubaha Nsulu, was commissioned on 26th, December, 2020. Umuala Nsulu will be next, while Umuode Nsulu is loading.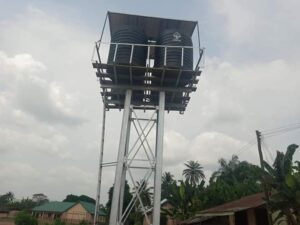 Fielding questions during the tour of the sites on why he embarked on the water project, Chief Omerekpe has this to say;
" Safe water is one step to break poverty circle since almost all the diseases that affect this part of the world are water related.
Therefore, i decided to provide clean water for my people so they can be disease free, save and channel the money they could have used for treatment of diseases towards taking care of other family needs"
Let us hail and appreciate this silent achiever as the reward of goodwill is the encouragement to do more.
Picture below shows the commissioning of Ubaha Nsulu solar borehole by NCHETA Okoro Omerekpe .