Earlier today, the Governor of Abia State, Alex Otti, summoned the courage to send his spokesman and his Commissioner for Budget and Planning to ostensibly "disabuse the minds of the misinformed and put the records straight," on the raging issue of high cost of governance exposed by the published 3rd quarter (July – September 2023) financial report for the state. This was coming more than one week after germane issues were raised by independent reviewers and members of the PDP.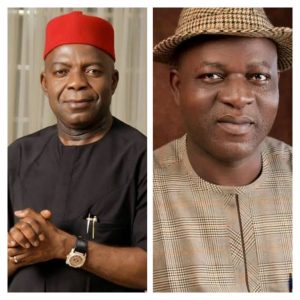 Permit me to highlight some of the established facts from that engagement as well as point out some of the beautiful lies told by the government team to further mislead the "misinformed".
1. The Government accepted that all the figures are correct as published by them and there was no fake figure bandied by anyone.
2. The Governor accepted that he is taking more than N900m monthly as security vote but his spokesmen failed to mention that he vowed to Abians that he will not take security votes if elected.
3. The government failed to disclose the fact that they spent at least N1bn on security outside the N2.8bn security vote.
The vehicles they procured for security agents possibly was written off from this sub head and not from Governor's security vote. I challenge the government to explain the make up of this N1bn that is different from the months' security votes.
4. The government said security vote is "for all kinds of things" including those they won't mention on air. Yet, the same Otti lambasted his predecessors and claimed that they were stealing the same security votes without disclosing the purposes for which they were spent. If he believed they were stealing it when they were taking much less, the question to ask him now is are you stealing much more today, sir?
5. The government accepted that there were fresh corpses they found at Lokpanta which confirms that whatever happened there, much of it may have been fresh. We only demanded publication of evidence to save the image of our state from those alleging that Abia is expelling northerners.
Abians welcome all visitors and love all residents of our state regardless of the infantile handling of such an issue that the security authorities should have been encouraged to announce themselves and own.
If security agents told you they discovered fresh corpses and skeletons simply ask them to release the statement to the world because it is their job to secure that environment. Now that you have the information you should also encourage them to carry out further forensics and release public information because in all civilized entities no one dares leave 70 corpses unidentified.
6. The Governor admitted that IGR dropped below par and promised to work on improvements. Yet, the government pretends not to know that people are still being chased in Aba and Umuahia by weapon-wielding revenue agents.
7. The government uncannily tried to lump June and October expenditure into Q3 as if we are all fools in Abia. For instance, they bought a vehicle for the Speaker and his deputy in June and claimed it formed part of the expenditure for the house of assembly. Moreover, they failed to explain over N1.9b spent on new vehicles by the government. They also took whatever action at Lokpanta in October but claimed the associated expenditure was part of Q3. Is that not juju? Unless there is accounting sharp practices in the whole saga sha.
8. The government and Governor Otti falsely claimed that we can get details of FAAC allocation to our state online. Please, can we get the link to show us how much our state receives monthly because I know FGN only publishes bulk figures showing how much the federal, states and LGAs share monthly. If the Governor wants to do the right thing he can direct any relevant commissioner to make public the figures from June to date and going forward.
9. On salary obligations the government failed to explain how it is paying more than the past administration. During a post EXCO press briefing on Monday, 6th November 2023, the government stated as follows: "62,479 public servants including pensioners have been verified while 11,479 individuals are yet to be verified". What that confirms is that government is not paying at least 11,479 Abia workers currently in active service and when added to more than 10,000 Abia youths already sacked, it means Otti is not paying at least 21,479 Abia workers that the previous administration paid.
How then did your wage bill go up bearing in mind that as at the time Ikpeazu left, MDAs and LGAs had only one or two months left unpaid? Even pensioners are not receiving full payment under Otti and he has continued to slash wages every month by as much as N25k per some mid-level workers.
10. The government failed to tell us what Abia's total total wage outlay currently is or how much we saved because of those more than 21,000 unpaid workers?
11. The government admitted that it did not publish contracts for tender or competitive bidding. That's a crime against due process as prescribed in our laws.
It is even more absurd than earlier thought that the government of Alex Otti publicly admitted that people go to the ministry of works to haggle for and get contracts. I hope they understand the implications of this in terms of anti-corruption, conflict of interests and a lack of transparency in running the affairs of government as provided for in our laws?
12. Flowing from 11 above, Governor Otti has admitted on record to have awarded a whopping N30bn contract without due process to his business ally and partner aka MD of Julius Berger (JB).
14. While JB is yet to report to site after Otti purportedly flagged off the Port Harcourt Road Aba project with pomp and fanfare in October 2023, it is on record that the same Governor Otti claimed in a viral video that he has already made payment to Julius Berger for the project. We are waiting to see N30bn expenses in Q4 as contract award sum.
15. It is shocking that the government does not know that by admitting that contractors go to site without proper contract award they are enabling corruption. I guess if we have anything in the form of even a modicum of an effective house of assembly in Abia they will respond appropriately and adequately to that.
16. This government claimed that there was virememts from 2023 budget to fund capital projects but probably do not know that the state house of assembly must approve such virements. I challenge the Speker to make public where at least N50bn virement was approved to cover the JB and other projects claimed by this administration.
Even at that, virements do not remove the need for specific due process approval for capital projects because the statutory approval limit of the governor is N50m. Unless he has changed that without the approval of the house of assembly bearing in mind that his personal rubber stamp principal officers of the state legislature will approve anything for him without asking questions.
On the whole, I think the government orchestrated today's media appearance to further hoodwink the people they labelled "misinformed" and certainly not for people like me. Our demand is simply for the government to keep its promises to Abians and stop running a government of costly propaganda whereas nothing is there to prove that value is being added. If you are a content creator and they have paid you heavily from whatever source, enjoy the money and tell as much lies as possible because "hunger no be small thing" but we will continue to factually review and offer alternatives to deceit.
I will be back!!!
-Nwandugbom JOK