Abia citizen and public analyst, Mr. Eric Dywse Ikwuagwu, also called " ORACLE OF NATIVE SENSE, has taken to his verified Facebook account to expose how the Governor of Abia state, Dr. Alex Otti lavished a whopping N542. 8m on what he termed as propaganda moves aimed at deceiving the public.
Read the full details:
*They keep creating Multidimensional Poverty in the state as jobs are exported to their big ogas in Lagos and Abuja.
*About a fortnight ago, we were greeted with a shocking revelation of the supposed messiah's fiscal recklessness on frivolities and wasting of about 35% of total Q3 budget on self. He almost got away with it leveraging on the seeming ignorance of most cheerleaders, who still celebrate street lights in 2023.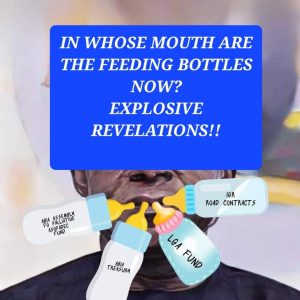 *While the saintly messiah multidimensionally impoverished citizens, increasing poverty by 42%, he improved self by helping himself with N933M monthly on corrupt camouflaged cash and fed himself lavishly with N5.32BN in 3months. Travelled with N200m, purchased "luxurious and exotic" vehicles at N2BN.
*To maintain the lavish lifestyle; Workers were sacked, salaries deducted, Pensioners at 40%, Local government funds in his mouth via feeding bottle, parastatals are crippled as they remain uncore, projects are overvalued, cost and process are shrouded in secrecy, lies and propaganda received N542.8M, walk paths are tagged 6 lanes, houses demolished to justify billions sunk on project, headless cows and 80 bodies explained N2.8BN waste, buildings are painted with N35M, N50M on cheerleaders mobilisation, entertainment and more feeding took additional N100M. ODI EGWUOO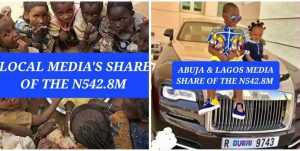 *Only media outfits, skit makers, comedians, social media influencers in Abuja and lagos got the wasteful N542.8M, spent on greasing their propaganda against her citizens, which is intentioned to create a fake emerging state "online" distinct from the real state "offline" of weeping workers. Those in the local media Chapel and correspondents are treated with levity, disregarded and starved. The once budding and hitherto attractive government house press crew are a shadow of themselves as their jobs are exported to Abuja and Lagos.
*A known "CASHVIT" who ostentatiously calls
himself "ADVOCATE" was recently seen in this particular state taking pictures of roads done by the last administration but were only maintained by the present government. Who knows the lies that will be cooked from those shots and videos. We await patiently as this individual is no stranger to working for brown envelopes as against the mouthed good governance advocate, he claims.
*Skirt makers, social media influencers milked from the N542.8M propaganda windfall, while our locals are appreciated with N70k for about 50 people which is less than N10k each for covering their press conference; just to create the false impression of prudent management of resources. The media big ogas in lagos and Abuja took a chunk from the N542.8M but the field workers are starved and the local economy suffers. They keep adding and multiplying multifaceted poverty.
*Another export comes from the two propaganda point men who take home N15M and N18M monthly but are resident outside the state. Their states of residence enjoy the proceeds from the heist while local urchins are given N10k to N50k to insult any who dare hold a dissenting opinion.
*The worst irritants are those who still expect a new state to come when it is obvious they are only after deception and playing the mind game control via hypnosis.
*It is your opinion when your mind takes you to any state.
*…keeping it honest.
@ORACLE.