Nigeria have been handed a huge boost in the war against Terrorism as members of Multinational Joint Task (MJT) Forces from Chad and Cameroon have arrived in Borno State to support an ongoing battle against Insurgents in the North East.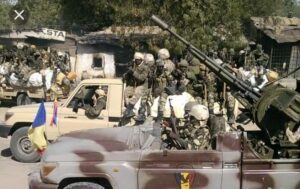 The multinational Joint Task Force arrived with their heavy weapons and will begin the search for all members of Boko Haram and the Islamic State West Africa Province (ISWAP) bandits causing Havock and Panic in Borno State.
Over the past few days, Boko Haram have launched attacks on members of the Nigerian Army in the Northeast and Destroyed their vehicles.
Although the Air Task Force have Neutralized some of the Insurgents in recent weeks, they are still yet to gain Dominion over the state.
The Chadian Troops are not new to Nigeria. In January 2020 over 1200 members where with the Nigerian Army in the north for over eight months and where part of the team that Recorded some of the victories in the North.

Nigerians will now be hoping that their latest arrival will once again yield a fruitful Results.