IMMEDIATE past Minister of Aviation Hadi Sirika is a poster boy of the Muhammadu Buhari administration. The reason could not have been that he was from Katsina State like the former president. Sirika shares the same disturbingly uncaring attitude with Buhari. They have a crave for reducing things to bare standards which turn out to be no standards.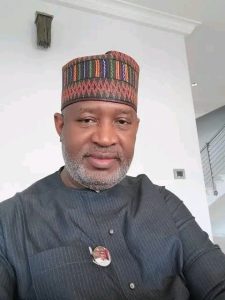 He came to the Ministry of Transportation in 2015 as Minister of State, Aviation which he considered belittling. By August 2018 Buhari made him Minister of Aviation. His colleagues at the National Assembly where he was at the House of Representatives, then Senate, complained endlessly that he never "carried us along". Nigeria Air was the climax.
Sirika was not exactly anyone's favourite Minister. He draped himself with qualifications as a pilot trained in the United States. He easily claimed expertise in the industry and seemed to have presidential imprimatur to do whatever he thought was best, not necessarily for Nigeria. People are suddenly wondering how he got away with so much.
Nigerians should be grateful, according to Mr. Nnolim Nnaji, Chairman of the House of Representatives Committee on Aviation, to the Nigerian Civil Aviation Authority, NCAA, for refusing to grant Nigeria Air an operating licence. If NCAA did, Nigeria Air would have been a completely done deal.
Nnaji said that Sirika refused to provide the House with documents about Nigeria Air. He has called for a presidential probe of Sirika. Technically, some claim that there was no deal other than an arrangement that landed an aircraft in Nigeria Air livery at the Nnamdi Azikiwe International Airport, Abuja on 26 May, three days ahead of the latest deadline that Sirika's deft hands set.
Sirika delivered on time. Along the way he littered trails of how he did everything to ensure he messed up a project that he used to be so proud of that he personalised it. When he discovered that his fantasies were not tickling anyone, any more, he started leaning on the Federal Government in his statements.
It was the Federal Government that unveiled Nigeria Air on 26 May, not Sirika. We were later told it was not an unveiling, it was not a test flight, it was not an inaugural flight, it was not an introduction; it was a presentation. The flight was chartered not leased, the ownership of the aircraft was doubtlessly Ethiopian, and the crew was on standby to take it back to Addis Ababa where it has resumed flight duties immediately.
Would it not be unfair to scam to use it to describe what Sirika did? It was not a scam – it was worse. The low level trickeries on which Sirika's schemes survived would not qualify for scams.
What was wasted on Nigeria Air may never be known if we bear in mind that what Sirika did was typical Buhari transparency in action. He was not meant to account. He would not account. Those who ask if he would get away with it are playing innocence of how Nigeria works.
From 18 July 2018 when the logo of Nigeria Air was unveiled at the Farnborough International Air Show in the United Kingdom, it was clear that Sirika was at play. Armed with only a hastily produced logo that was claimed to have been done in Dubai, Sirika said Nigeria Air would be flying by the December 2018. Three years of silence rolled by.
Sirika upped his game at an aircraft factory in Hungary when during an August 2021 visit, he said that Nigeria would start manufacturing its own airplanes by 2023 in partnership with the company. It was likely that the inability of Nigeria to manufacture the planes could have affected his plans to put Nigeria Air in the skies.
Let it be noted that the Hungarian company Sirika visited manufactures light military aircrafts. Sirika was not in a position to negotiate manufacturing of military aircraft in Nigeria. He was not the Minister of Defence. He was not the National Security Adviser.
Sirika did not realise that the kite he flew in Farnborough was acceptable as Nigeria Air. Had he known, he would have set up a motorcycle assembling plant in his native Dutsi and tell us he was manufacturing airplanes.
Finally…
ONE week has expired without the government explaining how Nigerians will manage removal of fuel subsidy. Civil servants in some States have been asked to work only thrice in a week. For the first time, there are no annoying claims of what the governments will do with the savings. They would easily be swallowed by Muhammadu Buhari's debts.
MUDASHIRU Obasa just inaugurated as a third-term Speaker of the Lagos State House of Assembly has served notice of his agenda. "There would be laws in the areas of economy and commerce, property and titles, and we will reverse all that is reversible to protect the interest of the indigenes. Going forward in this wise, we are going to employ all legislative instruments for the support of the indigenes of Lagos". Not only will Obasa run into constitutional entanglements with his discriminatory position, he would also require robust provisions to make his principals indigenes of Lagos.
FIREWORKS at the election petition tribunals are taking peoples hopes up and down. We still know that nothing is decided these days until the Supreme Court sparks.
MOSES Eteng is popular agidi hawker in Uyo famous for his delicious meal and distinct for wearing a neat suit with a well-knotted tie every day he goes out to hawk agidi in a tray on his head. Obasesam Okoi, an assistant professor of Justice and Peace Studies at the University of St. Thomas, Minnesota, US, who stumbled on his photos on Facebook has supported his business with N350,000, Premium Times reports.
SENATOR Annie Okonkwo, more famous for his business successes that spanned telecommunication, commodity trading, marketing communication, real estate, oil and gas passed on Thursday in the United States. May the Almighty rest him.
WHY are there concerns over the in-coming leadership of the National Assembly? The main interests are about who gets what, and who would be more amenable to the wishes of the President. Where do these leave ordinary Nigerians? Stranded again.
WHEN did Mr. Abdullahi Sule, Governor of Nasarawa State know that Muhammadu Buhari spent $19 billion in eight years maintaining three refineries with total capacity of 450,000 barrels per day, while Dangote with $19 billion built a 650,000 barrel per day refinery? Sule was Governor in the last four years of Buhari's presidency and they are from the same political party. Is it convenient to say something now?
Isiguzo is a major commentator on minor issues