Lagos State socialite, Farida Sobowale, was all remorse hours after passersby physically held her back from plunging into the Lagos lagoon.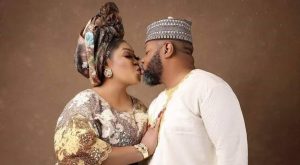 She was profuse in her apology to her children and fans for letting them down by attempting to commit suicide on the Third Mainland Bridge, Lagos.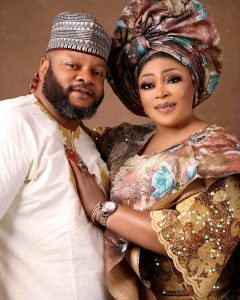 She attributed her ill-conceived decision to the breakdown of her marriage with another Lagos socialite, Demola Okulaja.
The marriage which took place only two months ago reportedly cost N100m
Farida owns House of Phreedah at Surulere, Lagos.
Speaking in a viral voice note on social media yesterday, Farida said she felt frustrated after her husband walked out on her after only four weeks of marriage.
She recalled how "friends and family warned me not to go into the marriage.
"They told me that the man only wanted my money but I was recalcitrant," she said.
She said she was "so sorry for putting my children in such a position," and claimed she "would not have forgiven myself if I had abandoned them after committing suicide."
Estranged husband: It's all Nollywood acting
But Okulaja dismissed the suicide bid as high wire drama.
In a lengthy and disjointed post, Okulaja wrote: "I gave you my heart Phree. I was loyal to you and all I did was to stand next to you as your man and I also accepted you with all your flaws. We never had any argument and we have never called ourselves names.
"I gave you my words and assurance that I'm your man so many times but you ignored all, even when you go ahead to fight with people, I always tell you the truth but your problem is you don't want to listen to the truth and always want to involve yourself in fights and I always beg you to consider me but you ignored all signs.
"Well, fast forward, Phree, you're a pretender and a pathetic liar, all these things you are doing is Nollywood acting. This is season 2 and it has just started. We are going to season 20.
"Unless you come out and tell the world the truth, I never cursed at you and I never body shamed you. I called your nanny to please warn you to stop and let peace reign but you decided to go to "gistlover" and your street mom to lie on me and decided to drag my family name to mud and knowing that my mom has stroke and now she's experiencing another symptom.
"You told me categorically that I will be electrocuted or jump into the lagoon without doing you no harm and also decided to shame another woman that as her husband because of your wayward attitude.
"Phree you need to ask God for forgiveness and go personally to beg the parties involved. I told you I got so much proof and you haven't seen anything yet. We just started season 3, welcome to fracas."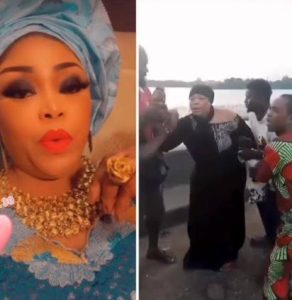 Actress Iyabo Ojo reacts:
I had no idea of her suicide plan when we spoke on Wednesday, says Actress Iyabo Ojo
Farida's friend and Yoruba actress, Iyabo Ojo, said on social media that she had no slightest idea of her (Farida's) suicide plan when they both spoke on Wednesday.
She said: "Hmmmm my darling, if I knew you had this on your mind, I wouldn't have gotten off the phone with you.
"Of course, you knew what you wanted to do but you diverted my attention elsewhere. Story for when we see (cos you're going nowhere).
"Thank God for the people who were there right on time to save the situation, God bless them. My love, this will definitely pass, the sun will shine again, and your tomorrow will be better than your today, but for now, just breathe.
"I love you so much. Please stay strong. I'm praying for you."
A Twitter user, Uche Anyanwu, said: "Life is indeed a theatre of sorts and people react differently to situations.Pain leads to frustration and may eventually lead to depression.
"Anxiety can also lead people into depression and suicidal tendencies that may deal a fatal blow to their mental health.
"We must understand that we are made differently and while some people can handle issues with strength, some are weak in that regard.
"When things happen to people, they may either resort to violence, turn suicidal or totally recline from normal living etc
"With this basic understanding, we must sympathize with those who often turn suicidal out of pain and despair.
"I am alarmed at the reactions that have trailed the suicide attempt by the proprietor of House of Phreedah!"
Another social media user, Adewale Damilare said: "People are battling with various issues, may God continue to make it easy for us all. I'm happy she was stopped. When there is life, there is hope. Ending it all is against nature and God Himself frowns at same."
According to Francis Matthew, mental health was a serious issue that Nigerians were taking.lightly.
"When your thoughts hey suicidal, see a doctor, talk to a friend and stop sheiffinf off suicidal talks from loved ones.People are going through a lot in Nigeria."
The Police in Lagos immediately began an investigation of the alleged suicide bid.
Attempted suicide is a crime under Section 327 of the Criminal Laws.
Farida reportedly parked her black Lexus Sports Utility Vehicle (SUV) on the bridge on Thursday evening and made an attempt to jump into the lagoon.
However, vigilant passersby who saw her rushed held her back.
They subsequently took her to Adekunle Police Station, Yaba, from where she was moved to an undisclosed hospital for treatment.
A viral video of the incident shows the light skinned woman dressed in black gown with tears streaming down her cheeks uncontrollably.