Recall that the embattled NNDC Boss, Ms Lauretta Onochie was reported to have been suspended by ward by the APC Leadership for alleged anti – party activities and was accussed of supporting PDP, instead of APC in the March 18, Governorship elections.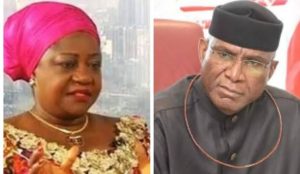 Now, the NDDC boss has taken a swipe on Sen. Ovie Omo Agege in an open statement made available to www.newsmirrorng.com thus;
YOU STABBED YOURSELF SO BLAME YOURSELF, NOT ANIOMA PEOPLE.
????No one had a choice as to which family they were born into nor which religion they wanted.
Hating a People who have not hurt you in any way because of their ethnicity, Religion or for coming from an area with the state capital, come with consequences.
????Being greedy, self-centred, egocentric, selfish and the most stupid person on earth, do come with consequences.
????Being arrogant, high-sounding, boastful and looking down on everyone, also has its own consequences.
????Biting the fingers that held the ladder for you to climb and betraying those who trusted you, have consequences. From Chief Great Ogboru to Pres. Muhammadu Buhari; from President-Elect Bola Ahmed Tinubu to Gov. Ifeanyi Okowa; from Dr. Otive Igbuzor to Chief Orubebe; From Cairo Ojougbo to Chief John Oyegun, Prof. Pat. Utomi to Daniel Bwalla, etc.
????From the people of Anioma, Ijaw, Isoko, Itsekiri and shamefully, the Urhobo nation too, from the Presidential Villa to the National Assembly, the betrayal is colossal. There are consequences.
????Underpaying your staff, not paying some of your staff at all, hijacking for yourself alone, the Commonwealth of ex-Militants who are struggling to find some meaning for their lives, have consequences.
????Excluding real APC leaders and Installing touts and hoodlums as APC leaders across the state, has its consequences.
????Refusing to campaign for Asiwaju Bola Ahmed Tinubu, nor use his image, had its own consequences. You quickly added Asiwaju's image at your deserted campaign office in Asaba, after Asiwaju won the presidential election. We noticed. We were not born yesterday.
????Being a Closet Obedient without the Labour candidate's knowledge, ensured you were used and dumped as they went about, removing your posters with Obi's image across the state. Consequences.
????You put your faith in a leprous mentally deranged tout and native doctor, instead of building bridges. He built you a castle in the air, which came tumbling down with the wind.
????There are:
• 25 Local Government Areas in your State.
• 8 Local Govt. Areas in your Senatorial District.
• You "won" 2 Local Government Areas.
• You rustled 2 Local Government Areas.
• 4/25
• But Its my fault you failed.
• Shame on you
????The holy books say, we reap what we sow.
If you sow weevil infested seeds everywhere, you only have yourself to blame at harvest time.
????May the spirit of Uba Keshi, (a man you used but couldn't pay him a decent wage to get medical help) haunt you until you learn to respect and appreciate PEOPLE. Amen
????I am Ada Anioma. Proudly so.
If you hate anyone for who they are, you are questioning God who chose everyone's race, tribe and religion.
Whatever you see, make you manage am.
But you can only blame yourself. You did it to yourself. Learn from your mistakes and move on.
????God bless Nigeria.
Lauretta Onochie.
@Laurestar.