..AS PASTOR IBIYEOMIE SAYS: WHAT WILL BE SPENT IN FINISHING AND FURNISHING THE 5 FINGERS OF GOD CATHEDRAL IS BIGGER THAN WHAT WAS SPENT IN BUILDING THE STRUCTURE.
-Pastor David Ibiyeomie on 'WISDOM FOR SUPERNATURAL INCREASE – PART 3 || Salvation Ministries – Home of Success || 13th August 2023 || Third Service Service.
Now, listen! Have you ever come and see me like a man under stress? No! If I tell you, some people the present budget of The Cathedral is more than all that we have built. As you see it is standing, you know the building is standing? We have put windows. Many Churches, it is at this level they will pack in but what we are to do now is more than the ones we have spent. You know? It is not to build house, it is the finishing. Chairs alone is seven point something million dollars, the chairs oo, it's not 'Kpako chair.'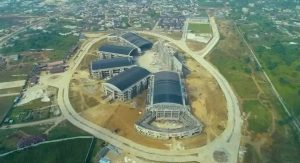 Everything is millions!!!! Do I look like somebody panicking? I come here, I laugh true? If it is some people they will have gray hair, at 60 years they will be looking like 120 years old. You say wetin? 'Hmm! That Project e dey hit me oo'! For what? Am I the owner? I'm not the owner oo. He said: 'I will build My Church…' Am I the Builder? Me too, I'm watching Him build.
The way some of you do life as if you are the one who owns your life. Sometimes when they call, Pastor Buchi is here, he is among those we send officially to go to China for the completion. If you see the budget, everything! I will say: 'Pastor Buchi, you people eh! Everything, one point something, three point something, seven point something'! Did we worry you in Church? You! As you are here, have we worried you? No! Are you not calm? If it is some people, even you sef, the heat from me you will feel it. I will come to Church, I will say: 'Cathedral oo!! Ten point something billion, have I worried you before'? I am at peace! Everything there is in billions, the Edge Vac alone, how many billions? They say: 'Ten point something billion', as I'm talking to you, we have paid them some billions already. Did anybody worry you here? The A.C., did anybody worry you here? Are you under pressure? Have you ever come to this Church and anybody pressurize you? If you like you give, if you no like, na you sabi. I'm not the owner.
On 2nd August 2020, Pastor David Ibiyeomie had announced that N36 billion ($72m) had already been spent on the carcass of the 'Hand of God' which implies that well over N72 Billion would have been spent by the time the project is completed. The Hand of God is the Salvation Ministries 120,000 capacity Cathedral and Headquarters which is set to be one of the largest church auditoria on planet earth.