Popular Nigerian comedian, Julius Agwu has opened up on how he has been faring since his wife and mother of his two kids left him.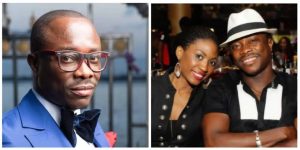 According to the Port-Harcourt born Rib-cracker, 'Life is very good and enjoyable now. When that (separation) happened, I was fighting with a lot; thinking about my sickness and my family. I thank God, because I know everything happens for a reason. When there is life, there is hope. But, a time will come when I might reconsider marriage."
On his stand on marriage and family ethics, Julius Agwu said, "I believe that any marriage without God would not last. When I married my wife, I did not even consult God. Some of us got married when there was so much money, and at that time, practically every girl wanted to be with us. But, after marriage, if anything happens to one, they would say, "I don't want this man again". I suggest that people should consult God first before getting married."

Recalling how he had 'died' and was about to be taken to the mortuary before he came back to live, the Crack Ya Ribs Anchor said he survived by the help and prayers of his sister.
"The day I finished shooting the series in my office in Surulere, Lagos, I went home to Lekki, Lagos, and I decided to sleep. Shortly after I slept, I had the seizure. It was so severe that my guard had to rush in and put a spatula between my teeth. They took me to a hospital, and the doctor said I had died and should be taken to the mortuary. They had to call my elder sister, who also lives in Lagos, to tell her. When they did, she told them to leave me, that I was not dead. She started running into houses, asking them to pray for me. She went into a particular house, where there were children and an old woman, and told them to pray for me. Immediately the woman heard my name, they started praying for me. As they were doing that, I moved my finger."
"While I was in the hospital, I saw myself in a realm, where I met some of people that were dead. An old employee of mine, Abaga, hugged me, saying, 'Welcome'. I also saw my late dad. When I woke up, I just told my wife that we should go to America."

"While in the US, I went for a magnetic resonance imaging scan, and the doctor said I had a tumour in my brain. After I had a surgery, I returned to Nigeria and went to Port Harcourt, Rivers State, and Lagos to do a Thanksgiving.
A year later, I went to London, United Kingdom, for my Crack Ya Ribs Show. Two days before the show, I was rushed again to another hospital, and I was in a coma for three months. That was when I realised the issue was serious."