A Lagos resident, Akagbobi Nkiru, has shared a post online of a woman weeping profusely and lamenting as she questions her son after he was apprehended for alleged theft.
The suspect was allegedly caught stealing a pumping machine and a brand new generator at an estate on August 17, 2023.
In a video captured,his mother kneeling is seen before him, crying bitterly, asking him why he chose to disgrace her and his family.
According to the woman, one of her sons who is based abroad sends the suspect upkeep money.
"What do you want? What do you want from me? Tell me what you want? Why do you choose to disgrace me and your father?" she asked the boy.
"His brother gives him upkeep money. I give him too. His father also. Please you people should help me to ask him what else he wants?"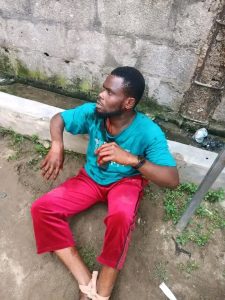 The woman also revealed that the suspect takes illicit drugs and once ran mad, prompting her to take him to a church for deliverance.
Taking to Facebook to narrate the incident, Nkiru wrote;
"It's a funny day today in my Estate…A thief was caught. I was not feeling well so I'm home today to take treatment and I witnessed this. This boy was caught stealing from the compound after mine. He stole their pumping machine and about to carry a brand new Generator. A little boy of about 12 years living there saw him.
"In a bid to confuse the boy, he gave him 150 naira to not tell anyone he saw him. The boy started shouting Ole Ole immediately and held him tightly by his clothes before his mum and other tenants gathered.
"The thief has been beaten, I don't know how his family knew, his older brother and his mom rushed. They're not living in the estate as I heard.
That is his mother kneeling down crying and asking him why he chose to disgrace her. His brother who's a dispatch rider was pleading on his behalf, he said they've started some businesses and skill for him but he refused.
"Said his brother abroad do send him upkeep money yet he chose to be lazy and steal and put them in trouble. I really felt pity for the mother as she was crying.
"Her cries touched me. Poor woman…He's been taken away by the police.