Today marks an entry, into the world, made, years ago, by no other person than the indefatigable Comrade Nelson Nnanna Nwafor, another "Nelson" after Mandela.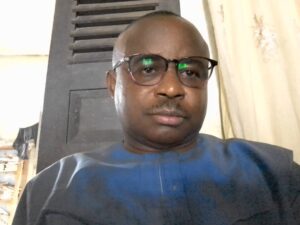 Comrade Nelson Nnanna Nwafor, like many other comrades of no mean repute, has had a fair share in the fights and push to expand the frontiers of justice and rights lending his voice in the realm of advocacy for community development and engagement through a environmental, pro-poor, pro-democracy and human rights advocacy group, Foundation for Environmental Rights Advocacy and Development, FENRAD, one of the leading civil society groups in Abia State and by extension the Southeast region and Nigeria.
A well rounded character and illustrious son of Ebem Ọhafịa,in Ohafia LGA of Abia state comrade Nelson Nwafor holds a B.Sc in Accountancy and Membership of Nigerian Institute of Management (NIM) with international training in various fields like Human Rights,security, peace and conflict, environment, election monitoring and observation to boot. The works of the foundation – FENRAD – remain a sure testament to this as a committed civil society organisation.
Through the organization (FENRAD), he has constructively criticised or commended many government policies effecting thus the needful changes as he has in some cases had the privilege to work in various state government committees due to his vast experience and committed struggle to enthrone Transparency and Accountability.
Through his sustained Advocacy Abia state Government signed on to Open Government Partnership (OGP) which has bought many Wins to the State.
Though he initially trained as an accountant, comrade Nelson joined the foremost vanguard of activists in the early 2000s in Abia State and has remained unwavering and towering in his cause ever since. FENRAD as a result has recorded many wins in community service and other laudable projects having undertaken a lot of awareness campaigns geared towards raising the consciousness of citizens to engage government and policy makers with a reasonable presence of mind.
Today, as he marks his birth anniversary, no other wish is best than him seeing the goals of sustainable development which he strives to see and the dream of an enviable environmental regime which he nurtures be realised.
Happy birthday to a comrade
Happy birthday to a ball of fire!
Happy Birthday to Great Advocate and voice of the voiceless
Signed
Barr. Femisi Akande
Head Corporate Accountability & Human Rights Enforcement. On behalf of the Trustees and Advisory council of FENRAD.
For publication of your news content, articles, videos or any other news worthy materials, please send to newsmirror14@gmail.com. For more enquiry, please call +234- 808-050-9464 or whatsapp. To place advert, please call +234- 808-050-9464.