A popular elder statesman and a lawmaker in the second republic, Junaid Mohammed, is dead.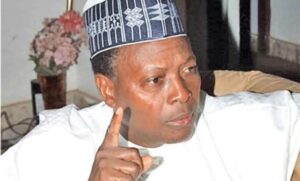 Mohammed, who trained as a medical doctor, died on Thursday in Kano.
Newsflash gathered that the elder statesman died at an isolation centre, but was not positive for the coronavirus.
The Personal Assistant to President Muhammadu Buhari on New Media, Bashir Ahmad confirmed the incident via his twitter handle.
He tweets "Just saw it on Facebook that Dr. Junaid Mohammed has passed away.
"Oh Allah, people are dying in numbers these days, when our time comes, may Allah accept us, forgive our shortcomings and comfort our family and friends. Allah ya jikan Dr. Junaid Mohammed, Ya bawa iyalan sa hakuri" he tweeted.
The deceased son, Suleiman who confirmed the death, said Junaid died on Thursday night at the age of 73 after a brief illness which lasted for three days.
His burial will be announced by the family.
Minister of Investment and Trade, Otunba Adeniyi Adebayo and other sympathizers have started trooping into the house of the deceased located at No. 60 Lamido crescent, Kano to sympathize with the family.
Mohammed was one of the founding members of the People's Redemption Party (PRP) in 1976 under the leadership of the late Aminu Kano.
He also served as the national deputy chairman of the Social Democratic Party (SDP) in the north-west in 1990.
Details later