Dr Alex Otti of Abia State has been accused of sliding the State towards dictatorship as his newly appointed aides have been acting with powers normally exercised by cabinet members who are designated commissioners.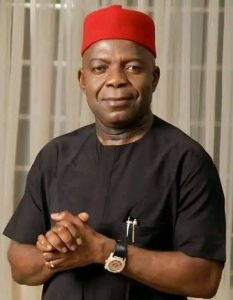 In a statement made available to newsmen in Umuahia on Sunday, Mr Mike Nwabueze said "By occupying offices aa commissioners in ministries, holding meetings with, and giving directives to Permanent Secretaries and Directors of those ministries, the aides are usurping functions reserved for cabinet members," he said.
Nwabueze said the situation is worse because the aides never passed through screening by lawmakers, nor did Otti ask the approval of the Legislature to appoint the aides making them lack powers to exercise executive functions.
"Otti's aides cannot exercise such powers, because they are only answerable to the governor but not accountable to the people through their elected representatives at the Abia State House of Assembly.
"One would have expected Otti to take a cue from the President of the country, Asiwaju Bola Ahmed Tinubu, who sought the consent and approval of the National Assembly to appoint his Speciak Advisers before the appointments took place.
"That is the difference between a democrat and a dictator. One respects the other arms of government while the other one in Abia State treats them with disdain. It's either Otti is ignorant of how public service works in a democracy or he is just being outrightly dictatorial.
"That the new Assembly had not been inaugurated when Otti appointed his Special Advisers is not an excuse as it was the outgone National Assembly that approved Tinubu's request for appointment of Special Advisers.
"The strange occurrence is not only an affront to the legislature, it also smacks of disrespect to the civil service and its hierarchy. Civil servants in the state must rise to the occasion and save our state from this act of tyranny among several others already committed by Otti's administration by resisting this gross anomaly. It is unconventional for top hierarchy of the civil service to take instructions from aides of a Governor who are not accountable to the people because they did not pass through legislative screening and approvals," he concluded.