The Name "TINUBU" simply means Leadership.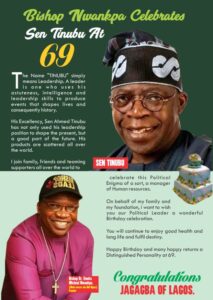 A leader is one who uses his astuteness, intelligence and leadership skills to produce events that shapes lives and consequently history.
His Excellency, Sen. Ahmed Tinubu has not only used his leadership position to shape the present, but a good part of the future. His products are scattered all over the world.

I therefore join his family, friends and teeming supporters all over the world to celebrate this Political Enigma and Manager of Resource and Human Development .
On behalf of my family and my Foundation, i want to wish you, our Political Leader a wonderful birthday celebration.
You will continue to enjoy good health, long life and fulfill your destiny on earth.
Happy Birthday and many happy returns to a Distinguished Personality at 69.
Congratulations JAGAGBA OF LAGOS.
Bishop Dr. Emeka Micheal Nwankpa.
Founder, Bishop Emeka Nwankpa Foundation