How else can you describe a man as noble if not to judge him by his actions, behavior and overall character content?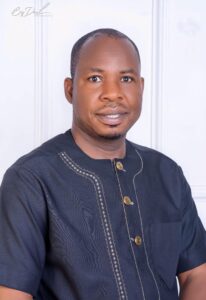 Engr. Agubata Damian Uchechukwu, Ogbuwara Uzo 1 of Nneato; Ekwueme 1 of Umudim Ngodo Isuochi; Ugoha 1 of Lekwesi Umuchieze is one man whose words, outstanding character and gentlemanly disposition stands him above other contestants for the Executive Chairman position of Umunneochi LGA, Abia State.
He is a reliable, tested and trusted politician; a grassroots mobilizer of great repute for many years and indeed a faithful People's Democratic Party (PDP) member, known for his good deeds in all the wards of Umunneochi LGA, from Amuda, Umuaku, Mbala/Achara, Ezingodo, Ndiawa/Umuelem,Eziama,Ubahu/Akawa/Aroikpa/Umuchieze, Obinolu/Obiagu and indeed all parts of Umunneochi.
The man popularly called "Ogbuwara uzo" is a household name in politics, even beyond his Umunneochi LGA.
No wonder all the Umunneochi PDP stakeholders, and party Executives are all encouraging him to become the Executive Chairman to Umunneochi LGA for the simple reasons that, he is gentle, accessible, a promise keeper that did well in his very short period as the Transition Committee Chairman of the LGA and most importantly, he is the only man whose agenda and manifesto is geared towards addressing the problems of the Local Government when he finally assumes duty as the Executive Chairman of the Local Government
Born on the 21st of November, 1974, Engr. Agubata Damian Uchechukwu parades intimidating credentials with wealth of experience.
He attended Ubah/Nneato Community School, Nneato Secondary school, Aquinas Secondary School both in Umunneochi, Abia State. Engr. Agubata also attended Aquinas Secondary School, Mbano-Imo State, after which, he proceeded to Institute of Management and Technology (IMT), Enugu between 1993-1998, where he obtained his OND and HND respectively in Chemical Engineering. His quest for knowledge pushed him into further studies as he enrolled into Enugu State University of Science and Technology (ESUT), where he again bagged a B.Sc Degree in Geology and Mining.
Engr. Damian Agubata has worked in several companies; amongst them is Strabag Nigeria Ltd. He is a member; Nigerian Society of Engineers; Member; National Association of Geosciences and mining and holds many chieftaincy titles and merit awards.
His wealth of political experience and credibility in leadership makes him the best chairmanship aspirant in Umunneochi LGA today.
Engr. Agubata was a former Chairman, Umunneochi L.G.A. Abia State (TC); former Supervisory Council for Health Umunneochi L.G.A., Chairman, Abia North/Abia Central (Old Bende) Youths Forum, General Secretary, New Era Organization Abia North, Senatorial Zone, Abia State, former Secretary; Reality Organization, Umunneochi L.G.A, Member of Abia State Committee for Gov. Orji Uzor Kalu Re-Election Campaign 2003,
Facilitator/Co-Financier Obasanjo/Atiku Presidential Campaign 2003 Ghana, USA and UK Chapter, Board Chairman, Abia State Project Insurance Company Limited Umuahia, Board Chairman Abia State Roads Maintenance Agency.
Umunneochi, here comes a man ordained by God to put smile on your faces.