The Programme Manager Abia state Agricultural Development Programme (ADP) Hon.Chief Amanze Israel has assured the Nvosi people under the Abia Grassroot Movement of the continued support of the group in rendering humanitarian services and empowerment of farmers
Chief Amanze who gave the assurance when he received a delegation of members of the movement from the Nvosi block in Isiala Ngwa south led by Comrade Enyeribe Ezekiel John who came to honor him and thank him for the the innumerable contributions he has made to the lives of members of the group members in the Nvosi political block.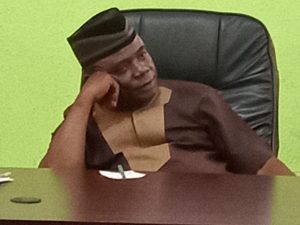 Chief Amanze told them that the Abia Grassroots Group is not yet tired and will not be tired of impacting positively on the lives of members, the farmers community and humanity in general.
He thanked the Grassroots family in Nvosi political block for organizing themselves and coming up to appreciate him for his humanitarian services to the people most of which he had even forgotten by now. He said they have challenged him to do more
thanked them for their gifts and solidarity messages.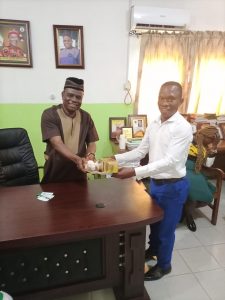 Speaking earlier, the leader of the delegation, Comrade. Enyeribe Ezekiel who thanked Chief Israel Amanze for a long list of Agricultural interventions, livelihood improvement and infrastructural development projects in their area consistently for over twelve years. He recalled how Chief Amanze attracted a UNDP funded program that built a fully motorized borehole in the area and donated science equipment to Nneise Secondary school, graded their roads and gave them many Agricultural intervention packages under the leadership of His Eminence Eze Solomon Nwakwuo, engaged many of their people for Sure P empowerment in Nneise. and Umunna Nvosi communities.
He recalled how recently hundreds of farmers in the Nvosi block were among thousands of farmers in Abia state that benefited from the Anchor Borrowers program of the central Bank courtesy of the intervention of Chief Amanze Israel.
He recalled how Chief Amanze has personally subsidizes quality and high yielding fertilizers for members of their group annually and consistently for over ten years. He thanked chief Amanze for
Isiala Ngwa south and indeed Abia.
Comrade Enyeribe said many people from his block including his humble self
have benefited from appointments, trainings and empowerment through Izybest's sponsorship and recommendations
He recalled that Abia Grassroots in every ward in Isiala Ngwa South was mobilized to access at least one community driven infrastructural project courtesy of the CSDP and other donor funded agencies and said that young football talents selected during their last Isiala Ngwa South football tournament sponsored by Hon Amanze ate now playing state and national league matches in Nigeria.

Comrade Enyeribe said it was in recognition of these and many other projects he cannot enumerate within the time allowed him that prompted the members of the Grassroots team to nominate and send them with gifts to thank and honor Chief Amanze Israel.
Other people who spoke in support of their mission included Elder chibuike Amos cordinator ward5, Lucky Agbara deputy cordinator ward6 and Mrs Oyoyo Precious.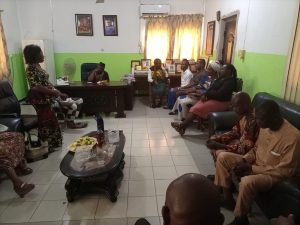 In a vote of thanks on behalf of ADP Management the Director Technical Services Mrs Nnenna Uche thanked the group for coming to appreciate Chief Amanze kind gestures to their people noting that only few people remember to say thank you.

High point of the visit were interactive session by the visitors and directors, exchange of gifts as well as prayers for Chief Amanze Israel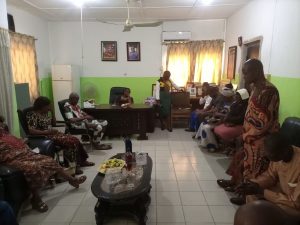 Video