The pioneer Chairman, All Farmers Association of Nigeria (AFAN), Abia State Chapter and program Manager Abia ADP Chief Israel Amanze has been honoured with an award as "the agricultural promoter" by the state chapter of AFAN.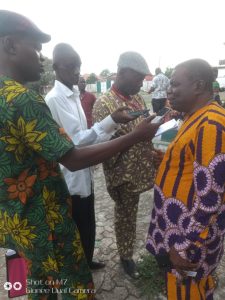 Speaking after receiving the award at Michael Okpara Auditorium Umuahia, Chief Amanze thanked AFAN for recognizing his contribution to the growth of the Association and agriculture in general.
The Abia ADP Program Manager who was a National Secretary of AFAN noted that the award will spur him to do more for Abia farmers adding that Abia ADP will not relent in giving training and technical support to Abia farmers.

He assured that he will always stand by Abia farmers in the state and at the national level and advised Farmers not to wait but engage in all year round farming as well as acquaint themselves with proper information on different weather conditions.

Chief Amanze used the occasion to blame the ravaging flooding across the country on the unpreparedness of government and called for the construction of Dams and proper channelling of water to forestall future occurrence as well as proper compensation of farmers who suffered loses .

Presenting the award to Chief Amanze, the state Chairman of AFAN, Abia State Chapter Dr John Barbington said the award is in recognition of his contribution to the growth of AFAN and agriculture in general and urged him not to relent in his good work for Abia farmers.