The management of the Kwara State Polytechnic has disowned Joseph Joy Adanma and Vandora Ore-Oluwa Favour, alleged of killing a hotelier, Adeniyi Ojo in Ilorin, Kwara State.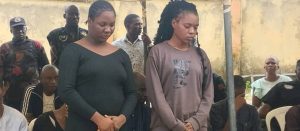 The suspects were said to have confessed to tying the deceased to bed during a sex romp in one of his hotel rooms, reports The Guardian.
A statement by Halimat Garba, the Public Relations Officer (PRO) on behalf of the Registrar, yesterday said that the duo, though were once students of the institution, had withdrawn due to an inability to cope with academic demands.
"Our database checks showed that the two ladies had since been withdrawn from the school after their first years on account of poor academic performances.
"They have, therefore, ceased being students of our great institution," the statement claimed.
"The Polytechnic Management states categorically that its students are good ambassadors of the institution, the state, and Nigeria at large, and will not be involved in shameful or criminal acts of any kind.
"We urge our media friends to always check with us anything that concerns our great institution."