Following the call for DNA after the sudden demise of Nigerian singer, Ilerioluwa Oladimeji Aloba, better known as MohBad, the late singer's close friend, OGB Recent has disclosed the result of the DNA result conducted on his 5-month-old son, Liam
It would be recalled that after Mohbad's tragic death, many Nigerians had requested for a DNA test to be conducted on his son, Liam, regarding the news of infidelity hovering around his wife with the Marlin boys, some even alleged that the child doesn't have any resemblance with his parents.
Some even went as far as saying that Mohbad might not be the father of Liam, hence requesting for a DNA test to be conducted to confirm that Mohbad is indeed the father.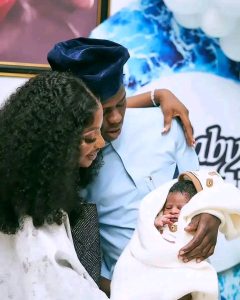 Meanwhile, significant of others considered the calls for a DNA test on Mohbad's five-month-old son, Liam, to be "insensitive."
Days after, it is now being claimed that the test has been carried out and it confirms that the late Mohbad is indeed the father.
Confirming the report, OGB Recent, who's a friend of the late singer also revealed via his social media handle that the DNA test has been conducted and Mohbad is indeed the father.
OGB Recent wrote, "DNA test confirms Mohbad is the father of his son."
In response to this report, concerned individuals have taken to the comment section to express their opinions.
See some reactions below:
@InterntH0F: "Where are all the Twitter people that were insulting and harassing her claiming no be mobad get the child? Make una come apologize o."
@1stus001: "That's good news already, we're now waiting for the autopsy."
@alpha_2wits: "Those who wanted the DNA test so bad can now donate for the child if they don't want thunder to strike."
@AkosuaAmpofowah: "Honestly this assumption was nonsensical. If I was the wife I'd never do it to satisfy someone's curiosity."