THE story is told of a new convert to one of these new churches where the pastors froth and fall in their gymnastics with the Almighty's words as they extort attendants. He was intoxicated by the volume of promises that he imbibed and ready to do whatever the pastor said. He promised himself in the course of the service that he would be immediate.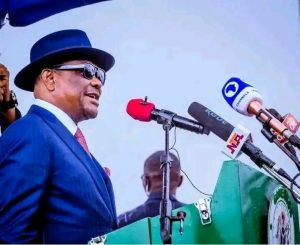 Note, the pastor thundered in those voices that make you wonder why they still bothered with microphones, "You will not leave here the same way you came". The congregation hollered their "amen" as if in competition with the pastor in the battle for decibels.
For the rest of the service, new convert kept his attention on a particular side of the facility to the embarrassment of those watching him. The only thing that had his attention was waiting for the pastor's command that the service was through.
He dashed for the nearest window to make his way out of the church. Someone apprehended him. The first thought was that he had stolen something. He had not. Why was the window his preferred exit from the service? He had a startling response.
His action was in adherence with the pastor's vision that he would depart from the church differently. Since he came through the door, he reasoned that the pastor meant he could leave through the window.
Nyesom Wike, former Governor of Rivers State, Minister of Federal Capital Territory, is ensuring that Abuja would not be the same again. Once he was sworn in, he made it clear that the major item on his agenda is the demolition of structures that are considered illegal. He could well have other things he wants to do in Abuja, but they cannot be heard in the din of rolling bulldozers and the tumble of rubbles from what used to be massive structures people invested their resources in building.
The position that the buildings violated the Abuja master plan is trite. Many of the owners of those places have layers of papers that bear authentic FCT stamps, approvals of the relevant authorities, with evidences of payment for those approvals. They mean nothing when the bulldozers arrive.
Beneficiaries of the established corruption would ensure that Ministers after Wike would discover that structures approved during Wike's tenure were illegal. They play their part,àa and go on retirement with their loot.
It seems that simple line civil servants use to start most official letters, "I am directed to…", means that they cannot be held responsible for the decisions that they appear to take.
Some FCT residents are leaving the territory not in the same way they came. Many are poorer, more despondent, yet others ponder and wonder about the worth of official papers that FCT issues to property owners. Many of them are fake, no matter the number of stamps on them, no matter which FCT offices issued them. The signatures mean nothing.
Similar approvals will be issued under Wike. They could be for today's violators to pay more fees and start building on those sites again.
Many occupants of the demolished buildings do not get a chance to rescue anything from their labour. Demolitions are done sometimes without notice and at other times when the residents of the property may not be around. Their property is crushed or looted by miscreants who exploit the moments.
Which of Abuja's six Area Councils has Wike visited apart from Abuja Municipal Council, AMAC, that demolition is his priority? Even with AMAC, which parts did he visit?
Residents of FCT are shocked by Wike's claims that the roads in Abuja are terrible. His example was Maitama where he said the roads were horrible. Maitama, one of Abuja's best parts, was horrible in Wike's ranking. He has a lot to learn.
Does he know that residents buy potable water in most parts of Abuja, including Maitama? That is something horrible about Maitama.
Let it not be that Wike thinks he is the Minister of Abuja. It is a Territory with six Area Councils, same as Local Government Areas. Some of the Area Councils are emerging out of the stone age, in terms of development. The stories about the backwardness of the Territory are legion. They include no roads – not counting the ones in Maitama that are horrible – poor medical services where they exist, and unwholesome drinking water, which often is the colour mud.
Wike has announced the award of contracts for the rehabilitation of 135 roads in AMAC, concentrating mostly in Wuse, Maitama and Gwarinpa Districts in what he called the first phase of road works in FCT.
Education is treated as after thought in the Area Councils. The quality of their school buildings is only a hint. FCT teachers have been on strike since 11 September 2023. Wike has not said a word about the strike.
Senator Ireti Kingibe, who represents FCT, has told Wike that he did not have executive powers after Wike made appointments into the FCT Administration without recourse to the National Assembly, contrary to constitutional provisions.
Her concerns are more. "I'm not telling you that there would not be demolitions. There are many problems within the FCT. Look at the flooding taking place in FCT, why? Houses are being built on flood channels, permission are being given to people to build estates on flood plains. There are so many things that we need to fix."
If Wike is listening, Kingibe is telling him that those officials who approve buildings on illegal spots need "to be fixed". They are a major challenge in FCT. If Wike brings them to book, a deterrence of their illegal practices, Abuja would not be the same again. The credit would be Wike's.
*Finally…*
NOAH Kekere allegedly harvested a woman's kidney in a Jos private hospital. There are suspicions that she may not be the only case. Police that took Kekere into custody transferred him to the teaching hospital after he started showing signs of madness. Some think he is feigning mental challenges to get out of trouble, others believe that the spirits of those he harmed could be tormenting him. Nigerians are not taking it easy on him, there have been shared messages asking anyone he had treated to check if their organs were intact. The Nigeria Medical Association said Kekere is not its member.
THE Directorate of State Services, DSS, and the Economic and Financial Crimes Commission, EFCC are milking fame from media trials. Should they continue? Tall tales of the sins of top Central Bank of Nigeria officials they are interrogating are all over the media. When would the officials be charged to court? Godwin Emefiele, suspended CBN Governor, not facing his accusers in court means that investigations have not been concluded, more charges may follow or the current ones dropped. But where were DSS and EFCC when the alleged offences were committed?
WHO lifted Dubai visa ban on Nigerians and ordered Emirate flights to Nigeria? UAE's statement mentioned nothing about visa and flights.
NATIONAL grid, not greed, was what collapsed last week. Greed is thriving.
*Isiguzo is a major commentator on minor issues*