Prominent Cross River State veteran Nollywood Actress, Shan George, has called on the people of Cross River State especially politicians to work in harmony with one another for the overall progress and development of the state.
The Abi-born beautiful and experienced Actress in a viral video she made expressed shock at the level at which some Cross Riverians have turned everything into politics.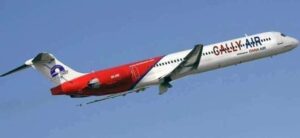 The Nollywood Actress wondered why some persons are making issues out of Cally Air cancellation of a flight, and why some people in the state would want to make issues out of nothing, expressed sadness and anger over the issue.
Shan George maintained that cancellation of the flight is not a new thing and does not begin with Cally Air, stressing that in Nigeria, America, and other parts of the world flight or flights are usually canceled for technical reasons, and as such, Cally Air cancellation should not be exceptional.
"I am doing this video because I'm really in shock, pains, and anger. Cally Air canceled a flight because of some technical issues like any other Airline here in Nigeria, abroad, and in America.
Sometimes they cancel flights because of technical issues but some persons are turning it into something else, is that illiteracy, wickedness, stupidity, or is it politics? " Shan George lamented.
She said that a flight is canceled is not a strange thing because it has been happening all the time even among top global airliners and nobody makes a mountain out of such issues but in Cross River State, some people want to create an issue out of the flight cancellation.
The Cross River State-born Actress, therefore, appealed to the people of the state especially those who want to make politics out of everything to calm down and work in harmony with the state government for the progress and development of the state.
See Video
END.